Journey south easier, north still a hassle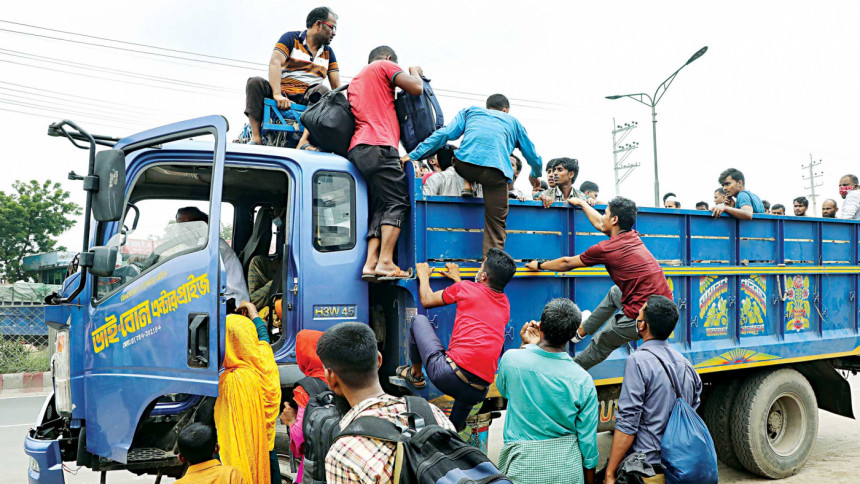 People heading for northern districts to celebrate Eid-ul-Azha in their village yesterday faced suffering for want of vehicles, overcharging and traffic congestion on the Dhaka-Tangail Highway.
One such sufferer is Zamir Ali, who hails from Nilphamari. He arrived at Gabtoli terminal with his family of four at noon yesterday to take a bus to his village.
At 6:30 pm, he was seen waiting in front of a bus counter opposite the terminal as the fares on the buses with available seats are prohibitive for him.
"My budget is Tk 5,000 but the non-AC buses are charging Tk 6,000 for four seats up to Rangpur and the AC buses Tk 8,800. I cannot afford it," he told the correspondent while looking for an alternative mode of transport.
The family went home to celebrate Eid-ul-Fitr for Tk 2,200.
"But they are charging Tk 6,000. How do we get home now?" asked Ali, who holds a low-ranking job at a government hospital.
Bogura-bound Alamgir Hossain has a similar story: what cost Tk 450 normally is now Tk 1,200. "But I have no alternative but to take a seat on the bus," he told the correspondent at 5:30 pm.
"All the tickets were sold out around a week ago. Today hundreds of people came to us but we have nothing to do," said Abu Bakar Siddique, counterman of SI Travels, which provides service to different northern destinations.
Many people were seen travelling on trucks and pick-up vans ignoring the risk and government instructions.
However, those heading to the southern part of the country had a relatively hassle-free journey thanks to the opening of the Padma bridge, which established direct connectivity between the capital and the southwestern regions.
Launch operators had an apprehended that the opening of Padma bridge just ahead of the Eid rush will eat up their business. But many still opted to travel by launch for lesser fares than buses.
One such person is Mujibur Rahman, a low-tier private service holder, who chose to travel by launch to his village in Barishal instead of a bus trip through the Padma bridge because of the lesser fare.
"I have to spend Tk 700 for bus service to reach Bhandari while I have to spend Tk 500 for launch," he said, adding that launches were overcrowded like on previous occasions.
As of 7:15 pm yesterday, 64 launches left the Sadarghat Launch Terminal, from where launches set off for different destinations in the Barishal division, and 30-35 more were scheduled to leave later in the evening.
About 140 launches left the terminal for different destinations two days before Eid-ul-Fitr, but this time about 95 to 100 launches will leave the terminal, according to Alamgir Kabir, joint director of the Bangladesh Inland Water Transport Authority.
Meanwhile, about a dozen trains heading for northern destinations were running behind schedule by one to four hours.
Failing to get train tickets, many were seen risking their lives by travelling on the roofs of crowded trains.
The Chilahati-bound Nilsagar Express was delayed by two and a half hours as the Kamalapur Rail Station authorities brought down passengers from the rooftop. At 6:30 pm, it was running four hours and 13 minutes behind the schedule.
Rajshahi-bound Dhumketu Express, Rangpur-bound Rangpur Express, Panchagarh-bound Ekota Express, Rajshahi-bound Silkcity Express and Sylhet-bound Jayantika Express were running between schedule by one to two and half hours.
Masud Sarwar, station manager of Kamalapur Rail Station, gave different reasons including the rush of passengers for the schedule disruption.
Earlier in the day, an increased number of vehicles on the Dhaka-Tangail Highway created a 20-kilometre-long tailback near the Bangabandhu bridge.
However, normal traffic flow resumed after 1 pm yesterday, reports our Tangail correspondent.
Eid-ul-Azha would be celebrated on Sunday and yesterday was the last workday before the festival.