Illegal rail crossings: Mushrooming despite rising fatalities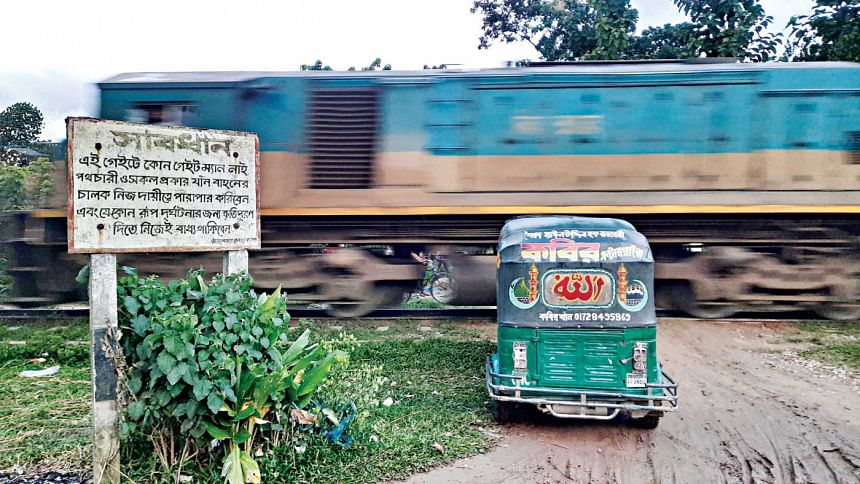 Different government agencies have built at least 140 level crossings across the country over the last four years without taking permission from Bangladesh Railway.
The agencies, which include the LGED, union parishads and municipalities, constructed those in blatant violations of the relevant law, raising the risk of railroad-related fatalities.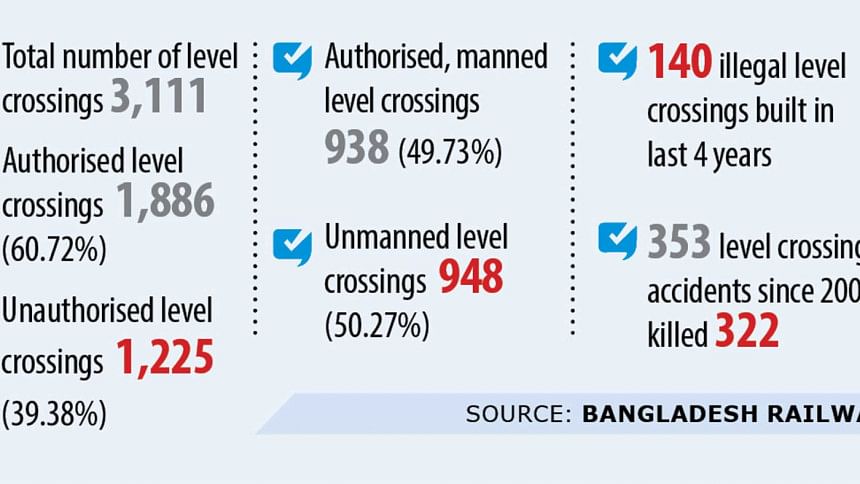 Currently, there are 3,111 level crossings in the country that has a railway network spanning 3,093 kilometres. Of the crossings, 1,225 or around 40 percent, are unauthorised, shows the latest BR data.
Moreover, more than 50 percent of the 1,886 legal level crossings don't have any dedicated gatekeepers.
According to the BR data, 322 people were killed in 353 accidents at level-crossings since 2008.
The number of deaths, however, is much lower than those counted by several non-governmental organisations. The Road Safety Foundation, an NGO working to ensure transport safety, said at least 219 people were killed in 116 accidents at level crossings from January 1, 2020 to July 29 this year.
According to the foundation's data, 74 people were killed in 35 accidents at level crossings till July this year, while 76 lives were lost in 43 accidents last year and 69 lives in 38 accidents in 2020.
Amid a rise in such accidents, the railways ministry yesterday decided to issue a circular, asking all not to build any level crossings without the BR's permission.
The decision was taken at an inter-ministerial meeting at the Rail Bhaban in the capital as part of efforts to prevent railroad-related accidents and improve safety at level crossings.
The move comes about a month after 11 people were killed as a train hit a microbus at a level crossing in Chattogram's Mirsharai upazila on July 29. Two more died from wounds later.
The level crossing was legal but reportedly there was no gatekeeper there at the time of the accident.
Railways Minister Nurul Islam Sujan and representatives from the LGRD and road transport and bridges ministries, Local Government Engineering Department (LGED), Roads and Highways Department (RHD), and Dhaka north and south city corporations, among others, attended the meeting chaired by Rail Secretary Humayun Kabir.
UNAUTHORISED LEVEL CROSSINGS
As per the law, if any agency wants to build a level crossing, it needs to take the BR's approval. But government agencies care little about taking permission.
The Daily Star in February 2019 ran a report on unprotected level crossings, citing the August 2018 data of the BR.
At that time, the total number of unauthorised level crossings stood at 1,085 -- 811 in East Zone and 274 in West Zone of the BR.
Nine government agencies built those unauthorised level crossings at that time, with the LGED constructing the highest number of unauthorised level crossings -- 452.
At yesterday's meeting, BR Director (Engineering) Mohiuddin Arif made a presentation which showed that of the 3,111 level crossings in the country, 1,886 are legal and 1,225 are unauthorised.
This means the number of unauthorised level crossings rose by 140 since August 2018.
At least 76 unauthorised level crossings were built since January 2021 when an inter-ministerial meeting was held to find ways to prevent accidents at unprotected level crossings, show relevant documents.
Of the unauthorised level crossings, 861 are in East Zone and 364 in West Zone, according to the documents.
The LGED built the highest number of unauthorised level crossings -- 510 -- while different union parishads constructed 487 crossings, different city corporations 70, municipalities 102, upazila parishads four, port authorities five, food department three, the RHD three and other entities 40.
Asked why agencies don't take BR's approval before building level crossings, a top BR official said it usually takes some time for agencies to get the BR's approval. Besides, if any agency takes the BR's approval, it has to bear the cost of related infrastructure and pay salaries of the gatekeepers.
MEETING DECISIONS
Following the July 29 accident at Mirsharai, the railways ministry held a meeting with BR and LGED officials on August 11 and asked them to complete the joint survey on level crossings by next month and recommend ways to improve safety at the crossings. The survey was launched last year.
Talking to this newspaper last night, Rail Secretary Humayun Kabir said that yesterday's meeting was part of the ministry's effort to improve safety at the level crossings.
He said that though the law makes it mandatory for any agency to take the BR's approval for building a level crossing, the ministry decided to issue a circular and send it to the agencies concerned to stop further construction of unauthorised level crossings.
Besides, all the agencies were asked to take necessary measures in line with the recommendations to be made in the joint survey report, he said.
In reply to a query, he said that if the railway decides to employ gatekeepers for all unauthorised level crossings, it has to recruit 10,000 people for this purpose only.
"It's not possible for the railway. We have asked the government agencies concerned to deploy gatekeepers at the level crossings [that they built over the years]."
About the legal level crossings that remain unmanned, he said they are working to recruit more gatekeepers. Besides, steps have been taken to regularise the temporary gatekeepers employed under different projects.
Asked how 140 unauthorised level crossings were built in the last four years, the secretary didn't give a direct answer.
"We have decided to issue the circular as soon as possible, otherwise more unauthorised level crossings could be built," he said.
At the meeting, the railways minister said the BR gets the blame whenever an accident occurs at a level crossing though it's not liable for most of the accidents, a ministry official, who was present there, told this newspaper.
Sujan asked all agencies concerned to work unitedly to prevent accidents at level crossings, the official said seeking anonymity.
Despite repeated attempts, this correspondent could not reach LGRD Minister Tazul Islam for comments.