Eid home rush: Bottlenecks look ominous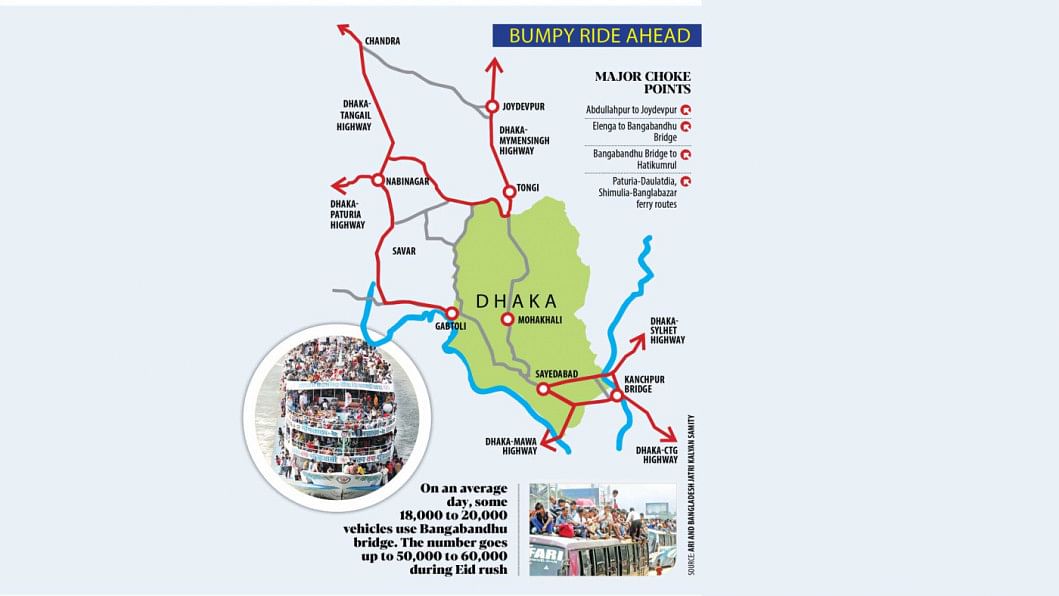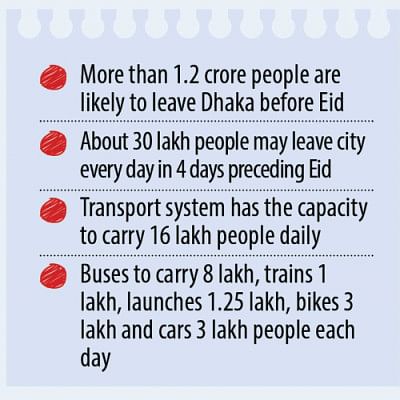 Eid holidaymakers could face long tailbacks at the bottlenecks on two major highways and at the ferry terminals on the Padma river.
The rush home is likely to gain momentum from tomorrow and peak on Saturday.
From Abdullahpur to Joydevpur intersection, a distance of 12km, on Dhaka-Mymensingh highway, the construction work of Bus Rapid Transit Line-3 is likely to cause jams like it did in previous years.
On Dhaka-Tangail-Rangpur highway, a 13.5km section from Elenga to Bangabandhu Bridge and a 19km section from the bridge to Hatikamrul area may witness tailbacks due to road expansion work, also like previous years.
Congestion is not uncommon at ferry terminals in Paturia and Shimulia. The Eid rush will predictably multiply the congestion.
It can be particularly worse this time as fewer ferries are running on the Shimulia-Kathalbari route to ensure the safety of Padma bridge pillars.
There are no major bottlenecks on Dhaka-Chattogram and Dhaka-Sylhet highways, but the large number of vehicles combined with possible poor traffic management could create congestions, particularly at toll plazas of bridges.
The good thing is, many people have already left Dhaka since the educational institutions closed on April 20.
Trains, especially the ones to north-western districts, are likely to face delays.
However, Prime Minister Sheikh Hasina will inaugurate 46 new locomotives today, which are likely to make a positive impact.
Launch services to the southern region may also face immense pressure amid safety concerns with river traffic set to multiply ahead of Eid.
Usually, 85 to 90 launches operate from Sadarghat a day. The number could reach 210-220 during the Eid rush with 10 lakh people expected to travel by launch.
Traffic congestion on major highways and ferry terminals is common ahead of Eid when thousands of people travel to their hometowns.
With almost no Covid restrictions in place, a greater number of people are expected to leave the capital and other cities after two years of pandemic-induced lull, experts and passenger welfare associations said.
They estimated that over 1.2 crore people are likely to leave Dhaka ahead of the Eid, which will be on May 2 or 3, said Prof Hadiuzzaman, director of accident research institute of Buet.
The shortage of transport is likely to force many to travel by vehicles that cannot legally carry people, like trucks and pickups, and on rooftops of launches and trains.
BOTTLENECKS
Construction work for a dedicated bus corridor between Dhaka airport and Gazipur has been causing congestion for the last few years.
Heavy traffic may cause jams, said Suvenkar Ghosh, joint secretary of Bangladesh Bus Truck Owners Association.
The authorities opened three major flyovers on the 70km section from Joydebpur in Gazipur to Elenga in Tangail on Monday. This will, hopefully, improve traffic movement.
But road expansion works on the 190km section from Elenga to Rangpur are feared to cause choke points.
The Bangabandhu bridge is considered the gateway to 16 northern districts. Besides, vehicles heading for six southern districts also use this bridge.
On a typical day, some 18,000 to 20,000 vehicles use the bridge. Eid rush may take the numbers to 50,000-60,000, according to highway police.
Travellers and transport operators say gridlocks on the west side of the bridge affects traffic on the east side.
However, the authorities opened two lanes of the under-construction Nalka bridge yesterday. It will be an addition to the existing two-lane bridge, said Waliur Rahman, project director of the expansion work.
Besides, there is a plan to divert some vehicles in Elenga to a bypass-road to Bangabandhu bridge.
The vehicles heading towards Dhaka will be diverted to Bhuapur road from the east end of the bridge to avert congestion, he added.
"We have tried our best to give alternatives. The situation will depend on proper traffic management," he said.
FERRY TERMINALS
On an average, 4,000 vehicles cross the Padma via the Paturia-Daulatdia route using 17 to 18 ferries every day, said Bangladesh Inland Water Transport Corporation (BIWTC) officials.
During Eid, the authorities will add two more ferries. The number of vehicles is likely to double and cause long tailbacks near the terminals.
On the Shimulia-Kathalbari route, ferry services have been operated on a limited scale since ferries have collided with Padma bridge pillars at least four times last year.
From the usual 600-700 small vehicles on this route, the number of vehicles may range between 3,500 and 4,000 ahead of Eid, Faysal Ahmmad, manager (commerce) of BIWTC's Shimulia office, said recently.
No decision was made as of yesterday to raise the number of ferries.
Meanwhile, Road Transport and Bridges Minister Obaidul Quader yesterday said all necessary preparations were made to ensure a smooth Eid journey for people.
Our correspondents in Munshiganj, Manikganj, Tangail and Pabna contributed to the report.