Eid during covid lull: Will the highways be ready?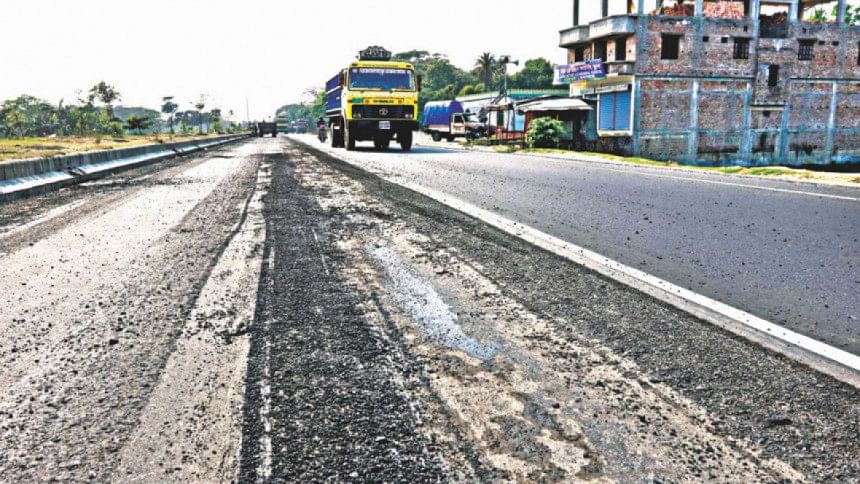 As the Covid-19 infection rate is at its lowest in Bangladesh, more people are expected to be leaving the capital and other major cities for Eid this year after a two-year lull.
This may result in huge traffic jams on roads; railways and waterways may also face pressure ahead of the festival.
Different government agencies have started holding meetings to take steps to keep the journeys relatively smooth and hassle-free.
The Roads and Highways Department has asked its field offices to complete all road maintenance works within April 20, some 12 days before the Eid.
It has also taken some measures to keep the Dhaka-Gazipur highway and Elenga-Rangpur highway, undergoing development right now, functional amid high pressure of vehicles.
Meanwhile, the shipping ministry has convened a meeting with stakeholders today while the railways ministry will meet tomorrow to plan ahead for holiday-goers.
Traffic congestion on major highways and ferry terminals is a common phenomenon ahead of Eid-ul-Fitr -- the biggest festival for the Muslim community -- when tens of thousands of people go to their village homes to celebrate with their families.
Subhenkar Ghosh, joint secretary of Bangladesh Bus Truck Owners' Association, said they think more people will leave Dhaka this time as the Covid-19 situation has improved.
"But we are worried about the road from Elenga to Rangpur [as works there are still going on]. Besides, ferry services are also a matter of concern [as there is always traffic at the terminals]," he told The Daily Star yesterday, adding that they are holding meetings with the authorities concerned about these issues.
RHD PLANS
AKM Manir Hossain Pathan, chief engineer of the RHD, yesterday met his top officials and project directors and gave some directives to keep the highways ready.
Talking to this correspondent, he said the authorities concerned were asked to complete all road maintenance works.
The original deadline to complete the works was April 15, but as some divisions could not catch up, they were asked to complete the works by April 20 maximum, meeting sources said.
One major concern for those going to the north-western districts is the ongoing expansion works of 190km Elenga-Rangpur highway, which has been witnessing regular congestion in recent times.
The situation may worsen once the pressure of vehicles increases, commuters said.
Waliur Rahman, project director of the expansion work, said they have prepared a plan to divert all vehicles from Elenga to a bypass-road that goes through the Elenga municipality towards Bangabandhu bridge.
The vehicles towards Dhaka would be diverted to the Bhuapur road from the east end of the bridge to avert congestion. They have made necessary renovations on the bypass roads for this, he added.
However, police will take a decision in this regard considering the situation, he told this correspondent.
He added they will also open the two existing lanes of the under-construction Nalka bridge before April 25 and keep them functional, while another two lanes are being added. "This will have a positive impact."
They will also open a four-lane bridge at Chandraikona and expand the narrow corners at Hatikamrul intersection.
However, traffic movement may be a problem in Gobindaganj town as the project authorities could not start the works of a flyover there, he added.
The RHD is also making plans to make the Dhaka-Gazipur highway functional ahead of Eid.