Dream of millions comes true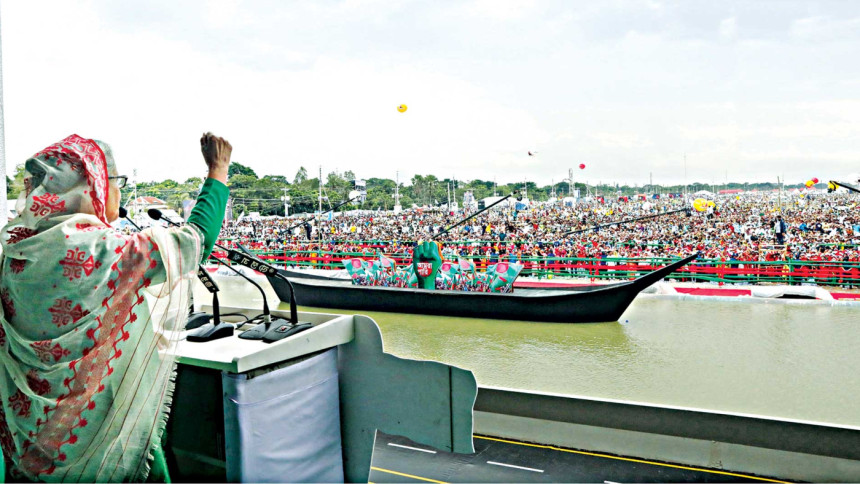 Thousands of people began gathering at Kathalbari Ghat on the Padma in Shibchar early yesterday to attend an Awami League rally marking the inauguration of the Padma Bridge.
Crowds spilled over the surrounding areas and neighbourhoods as thousands from different parts of the country, especially from the 21 southern and southwestern districts, kept arriving for hours. Soon, there was no room left on the 15 acres of land prepared for the rally.
Entire families also travelled all the way from Cox's Bazar and the northern districts.
Prime Minister Sheikh Hasina joined the event around 12:50pm after formally inaugurating the longest bridge in the country.
The PM took a seat on the spectacular stage resembling a part of the bridge complete with its pillars and spans and waved at the tens of thousands of people cheering for her and chanting, "Joy Bangla, Joy Bangabandhu".
A 60-feet long boat and several small boats floated on the water in front of the stage.
There was much celebration and fanfare as processions of AL leaders, activists and supporters joined the rally.
People wore colourful clothes and many had painted images of Bangabandhu Sheikh Muibur Rahman and the PM on their outfit and body.
As the day progressed, it became difficult for people to stay under the glaring sun. Many of the several thousand people, who came to Shibchar in around 100 big launches, stayed in the vessels to avoid the scorching heat.
"We reached Shibchar from Barishal on Friday night. Over 5,000 leaders and activists of Barishal Sadar Awami League attended the rally," said Hanif Mia.
Sheikh Oliullah, who came from Bagerhat, said around 500 people came from his union parishad.
People said the dreams of millions of people of the southern districts have been realised under the leadership of Hasina.
"My mother died at Kathalbari while waiting for a ferry on her way to a hospital in Dhaka. We had to wait for three hours for the ferry. But she didn't make it. She might have survived if travelling across the river didn't take that long." said Monir Hossain, a resident of Shibchar.
Mannan Mia, who came from Uzirpur, Barishal, said, "Our long-cherished dream is now reality. The bridge will change the fate of the people of southern Bangladesh.
"Sheikh Hasina has made our dream come true. We have come to see the bridge. There is so much to see. We feel so happy to be here."