Demo for safe roads continue
Students check documents of vehicles, drivers at several places in city; police quiz leading protestor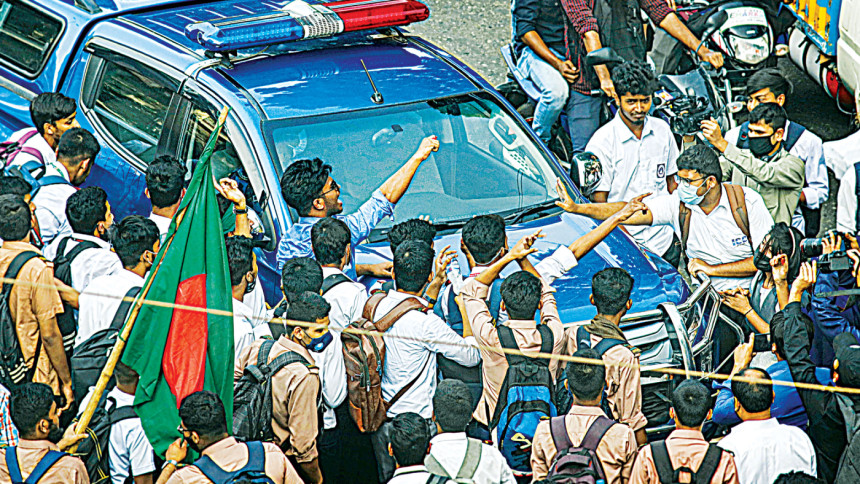 Students demonstrating for safer roads and half bus fare for them said they would continue with their demonstrations until their demands are met.
The nine-point demand includes ensuring justice for all killed in road accidents, alongside students, via speedy trials, compensation for the families of the deceased, half fare on all modes of public transports for students, safety for females on public transports, and establishment of a modern traffic system.
On Saturday, the students issued a 48-hour ultimatum to the government to meet their demands.
Yesterday, hundreds of students of various institutions in Dhanmondi, Mohammadpur and Lalmatia areas blocked the street in front of Rapa Plaza at Dhanmondi-27 intersection and checked documents of vehicles and licences of drivers. In many cases, they found that the helpers were driving in absence of drivers.
In two hours, police sued five vehicles and fined Tk 9,000.
The students put up placards with different slogans like: 'If you don't give a half pass, we will see how the vehicles are run', 'Why my brother died, the administration must answer', 'There is only one demand -- we want safe roads'.
Similar protests were also held in Kakrail, Rampura and Uttara areas.
Meanwhile, police yesterday picked up at least two demonstrators for interrogation.
A female student of Holy Cross College, who announced the nine-point demand on behalf of students at Dhanmondi-27 on Saturday, was interrogated at Mohammadpur Police Station.
She was accompanied by her father during the interrogation as she was still under the age of 18, the student told The Daily Star. The police had asked her to go to the station to verify some information. They were allowed to leave at 7:00pm.
A man named Hafiz, 30, was providing water to the protesting students and had asked the Holy Cross student for her mobile financial services account number, claimed Abdul Latif, the officer-in-charge of Mohammadpur Police Station.
She told police that Hafiz had only asked for her phone number and not her MFS number, Latif said, adding that Hafiz was picked up for interrogation to check his involvement in the movement.
Hafiz is still in custody.
The police move did not go down well with the agitating students, who have taken to the streets following the death of Notre Dame College Nayeem Hasan. Nayeem was run over by a Dhaka South City Corporation garbage truck on Wednesday.
Anyone can help the students if they express solidarity with the movement for safer roads and discounted fares for those still studying, they said.