'Delayed projects hampering operations'
BR, ministry on challenges and remedies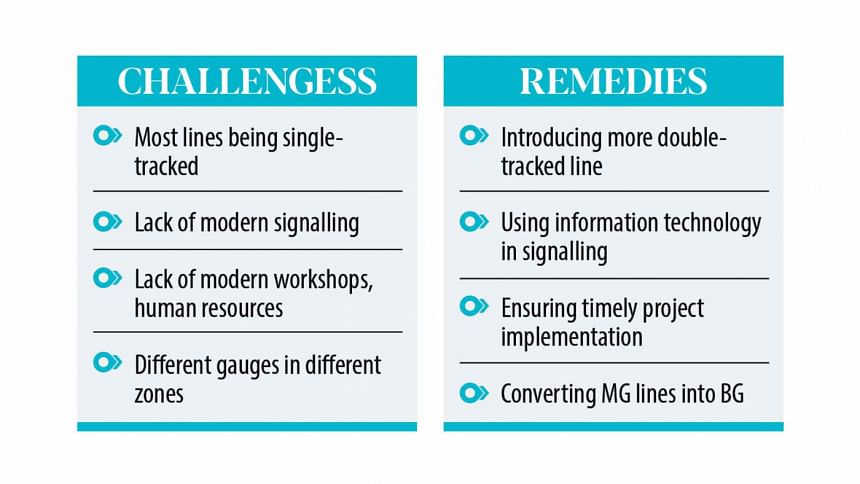 Due to most of the 3,093-kilometre rail line, including the important corridors, being single line, Bangladesh Railway (BR) cannot increase trains, maintain punctuality and cut travel time.
Moreover, most bridges under the rail network are old, forcing the authorities to restrict speed and load limits. Meanwhile, only 124 stations (35 percent) out of the total 359 have a modern signalling system.
However, BR does not have enough modern workshops and factories to maintain the engines and carriages, often causing a delay in supplying necessary engines and coaches on time.
BR is currently running with 24,459 staffers against the 47,537 posts. Due to the lack of human resources, 123 stations remain shut down.
As a result, the railway has only 5 percent of the modal share in transporting passengers and goods.
To make matters worse, most projects attempting to improve BR's infrastructure and rolling stocks got delayed.
BR officials and the railways ministry shared the grim picture at a seminar organised by the ministry in the capital's Cirdap auditorium yesterday.
THE CHALLENGES
Quamrul Ahsan, BR additional director general (infrastructure), during his keynote presentation, said BR transported 92.7 million passengers by operating 366 passengers trains. It also carried 5.44 million tonnes of goods operating 50 freight trains.
BR earned Tk 15,901 million as revenue and spent Tk 30,506 million annually.
Talking about BR's challenges, he said most of the 3,093km network is single line. According to sources, BR has only around 350 km double line.
Quamrul also said most of the lines in the west zone are broad gauge (BR), while most lines in the east zone are metre gauge (MG).
Different gauges in different zones are causing difficulties in operation and maintenance and full of use of rolling stock cannot be ensured for it. BR has taken a plan to convert all MG lines into BG ones to solve the problem, he added.
Out of the total 263, 249 locomotives are currently operating. BR owns 1,671 coaches and 3,221 wagons. However, around 67 percent of locomotives and 47 percent of coaches have crossed economic life, said the BR official.
While talking about the challenges, he mentioned several reasons, including delay in project approval, land acquisition, appointing consultants, lack of coordination among relevant agencies, and delay in getting approval from foreign lenders.
THE REMEDIES
Addressing the seminar, Railways Minister Nurul Islam Sujan said they are gradually progressing.
"We will make railway time-befitting, passenger-friendly and modern using information technology," he said, asking the authorities concerned to implement the ongoing projects as soon as possible.
Zunaid Ahmed Palak, state minister for ICT Division, said they will provide technological support to the railways to improve their service.
He asked BR to formulate a master plan emphasising technology for 2025, 2031 and 2041.
Transport expert Prof M Hadiuzzaman said BR's next step should be the electrification of its tracks, which will increase its efficiency for passenger and freight transportation.
"Construction of Padma Bridge will establish connectivity among three sea ports -- Chattogram, Mongla and under-construction Payra ports and the capital and it will create a huge opportunity for freight transport. BR should build two more Inland Container Depots, particularly one in the southern part of Dhaka," said Prof Hadiuzzaman.
He, however, questioned why the authorities installed a single line track on Padma bridge with 22-metre width, while the 15-metre-wide Hardinge bridge is double-tracked.
He also recommended interchangeable operations with India to increase cross-border transportation and more focus on the urban railway.
Railways Secretary Humayun Kabir, who presided over the seminar, said they have noted down all recommendations and will work on implementing them to overcome the challenges.