Dedicated company to operate, maintain Padma Bridge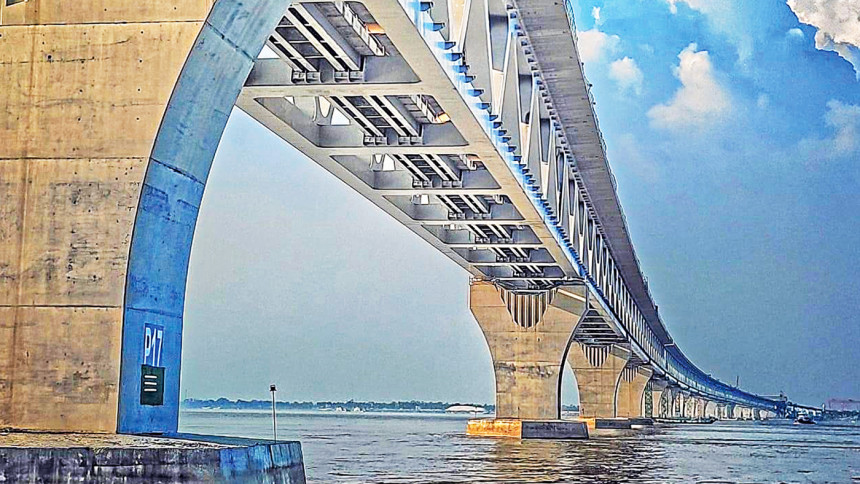 The government is going to form a dedicated company for operation and maintenance of Padma Bridge, which is expected to be opened next month.
In a meeting yesterday, the board of Bangladesh Bridge Authority (BBA) gave approval, in principle, to a proposal for forming the company under the agency.
Later, Road Transport and Bridges Minister Obaidul Quader, who presided over the meeting, told reporters that preparations are ongoing to open the bridge for the public toward the end of next month.
"We are sending a summary to the prime minister and are taking preparations so that she can inaugurate the bridge on a day preferred by her," Quader said.
Quader and top officials have long been saying that the bridge would be opened in June, but Prime Minister Sheikh Hasina last month said the bridge would be opened at the end of this year.
Yesterday, Quader said that there is no scope for confusion in this regard. "As a minister, after being briefed properly, I am saying that the bridge will be opened next month."
He said the main bridge witnessed 98 percent progress of works: the river training saw 92 percent progress, and carpeting 91 percent. The overall progress of the project is 93.5 percent. The rest of the works will be completed within this month, he said.
The minister, however, ruled out that the bridge would be opened on June 23, the founding anniversary of Awami League.
Replying to another question, he said they would send a summary with a proposal to name the bridge "Sheikh Hasina Padma Bridge". Earlier, the premier rejected such a proposal.
He said it would not be possible to start both rail and road operation simultaneously due to "technical reasons". Installation of the rail track on the lower deck of the bridge will start in July, he added.
DEDICATED COMPANY
The government last month decided that a foreign joint venture of Korea Expressway Corporation and China Major Bridge Engineering Company will act as the service provider for maintenance and toll collection for five years.
The organisations will do the work for about Tk 693 crore.
Although the companies will operate and maintain the bridge for now, there would be technology transfer between the joint venture and local staffers, said Monjur Hossain, executive director of BBA.
"So, we will require a separate company with dedicated manpower, and the board today [yesterday] approved a proposal in this regard," he told The Daily Star.
However, approval from top authorities would be required to form the company, he added.