Curbs to go when needed most
Govt decides to lift most restrictions on public, vehicular movement from Wednesday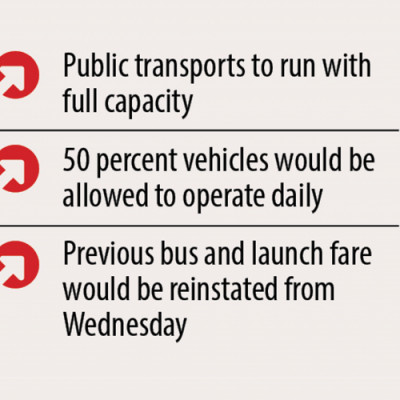 The government has decided to lift most of the restrictions on people's movement and public transport from Wednesday even as Covid-19 continues to exact a heavy toll on people's lives with high death and infection rates.
Public transport like buses, trains and launches will be allowed to carry passengers at full capacity. Shopping malls, markets, shops and restaurants will be allowed to stay open from 10:00am to 8:00pm, a government circular said yesterday.
All public, private and autonomous offices, banks and financial institutions will reopen.
On the other hand, only half of any transport fleet would be allowed to operate daily on the roads, raising concerns among road users over possible scarcity of transport on weekdays.
There are also questions about how exactly the authority would segregate 50 percent of the vehicles on a daily basis, with transport owners finding the decision tough to implement.
In March this year, the government raised bus and launch fares by 60 percent provided that operators would carry passengers at no more than 50 percent of vehicles' capacities so that social distancing guidelines could be followed.
While yesterday's circular did not mention whether transport authorities could charge the old fares, Bangladesh Road Transport Authority (BRTA) and Bangladesh Inland Water Transport Authority (BIWTA) said they would reinstate the original fares from August 11.
When the second wave of the Covid-19 pandemic gripped the country in March this year, the government started imposing differing restrictions under various names from the first week of April.
On April 5, when the second set of restrictions was first imposed, the Covid-19 daily positivity rate was 23.4 percent and 52 deaths were recorded in 24 hours.
Yesterday, the day that the government decided to relax most of the restrictions, the positivity rate was 24.52 percent and 241 deaths were recorded, according to the Directorate General of Health Services.
"This is another strange decision… Such decisions contradict science," Prof Ridwanur Rahman, an infectious disease specialist, said when this correspondent contacted him about the government's decision.
"Relaxing restrictions when the infection rate is around 25 percent, means the infection rate would increase further. And a rise in infections will see an increase in the number of deaths," he said.
PUBLIC TRANSPORT: 50% VEHICLES, 100% PASSENGERS
In its circular, the cabinet division cited the decisions of an inter-ministerial meeting held on August 3, the country's socio-economic condition, the importance of keeping the economic activities moving and the overall situation as the basis to relax many of the restrictions.
The decisions will come into effect from August 11 and remain in force until further notice.
The circular said public transport on roadways, railways and waterways will be allowed to operate at 100 percent capacity.
However, local administration -- in consultation with law enforcers, agencies concerned and associations of transport owners and workers -- will allow half the total transport on roadways daily, reads the circular.
Launches and buses started charging 60 percent more than the usual fare from March 31 on condition that they would carry 50 percent passengers of their capacities and maintain necessary health safety guidelines.
BRTA and BIWTA said they would reinstate the original fare from August 11 as bus and launch operators would be allowed to carry passengers at full capacity.
"Launch operators will have to charge the previous fare from August 11," Commodore Golam Sadeq, chairman of BIWTA, told The Daily Star yesterday.
BRTA Chairman Nur Mohammad Mazumder echoed the comments.
However, transport owners said the decision to operate half the vehicles would be tough to implement.
Khondaker Enayet Ullah, secretary general of Bangladesh Road Transport Owners' Association, said, "We don't know how such a decision would be implemented. We have to hold a discussion with the authorities."
Romesh Chandra Ghosh, chairman of Bangladesh Bus and Truck Owners Association, said, "Those who have a large fleet will be able to follow the directive. But we have to discuss how bus owners who have one or two buses will follow the directive," he told The Daily Star last night.
Asked about the matter, BRTA Chairman Nur Mohammad said as per the cabinet division's circular, divisional commissioners in city corporation areas and deputy commissioners in district level will be responsible for implementing the stipulation.
Both Enayet and Romesh said they would charge the previous fare if they were allowed to carry passengers at full capacity.
Meanwhile, Bangladesh Railway (BR) has decided to operate 38 intercity and 20 commuter and mail trains from August 11 at full capacity.
Half the intercity tickets would be sold online while the rest will be available at counters from 8:00am today, Sardar Shahadat Ali, additional director general (operations) of BR told The Daily Star.
All tickets for mail and commuter services will be available at counters.
OTHER DIRECTIVES
All restaurants would be allowed to be open from 8:00am to 10:00pm, keeping half the seats vacant. Earlier, restaurants were allowed to remain open from 8:00am to 8:00pm, but only for takeaway services.
All mills and factories will be allowed to be reopen.
Earlier, the government allowed only export-oriented mills and factories to reopen from August 1 after nine days of shutdown from July 23.
The Supreme Court will give necessary directives regarding courts, reads the circular.
In all cases, wearing of mask and following the health safety guidelines issued by the DGHS have to be ensured.
Authorities concerned have to bear the responsibility if negligence in following the guidelines on public transport, different offices, markets is found and legal action would be taken against them, reads the circular.