Company run trains: It's costing BR dearly
JS body on railways unhappy over scanty information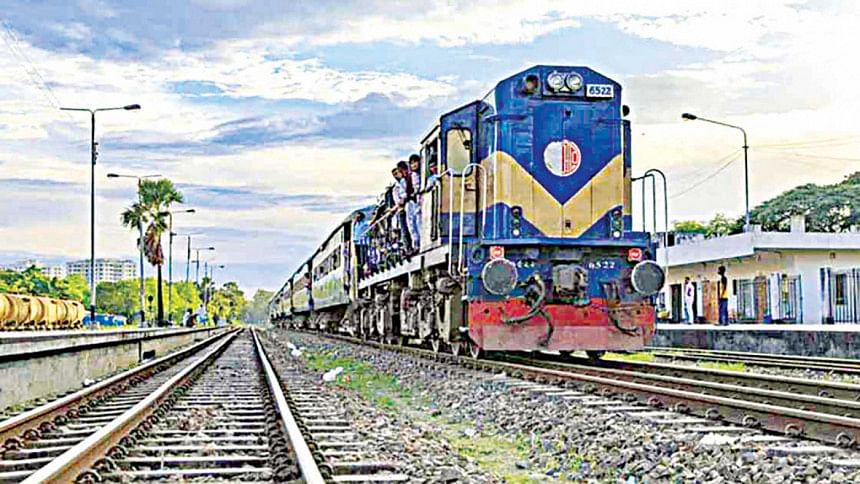 For every kilometre an individual travelled by train operated by private firms, the Bangladesh Railway spent Tk 2.43 and earned Tk 0.62, incurring a loss of Tk 1.81, according to the last three years' data presented before the parliamentary body on railways ministry.
The cost of transporting each tonne of goods per kilometre was Tk 8.94, incurring a loss of Tk 5.76, said the statistics by the railways ministry yesterday.
The Parliamentary Standing Committee on the Ministry of Railways discussed the information at its meeting at the Jatiya Sangsad yesterday.
The parliamentary watchdog expressed dissatisfaction over the way the data was presented and asked for income and expenditure of each train.
According to the working paper submitted by the ministry to the parliamentary committee, the ministry has said that they do not prepare train-based expenditure accounts.
Forty trains in the eastern and western parts of the railway are operated by different private firms. The data did not mention how much losses these trains make every year.
The committee members also expressed dissatisfaction that the data mentioned the trains earn over Tk 98. 61 crore a year, but did not say how much was being spent to operate the trains.
According to a press release issued by the Parliament Secretariat, the committee asked the ministry to provide the details of annual income and expenditure of 40 privately run trains.
Contacted, ABM Fazle Karim Chowdhury, chairman of the parliamentary committee, declined to comment on the matter.
A member of the committee, speaking on condition of anonymity, said there was no point in getting the trains operated by private firms and incurring losses.
"The committee asked the ministry to come up with the detailed statistics regarding income and expenditure in the committee's next meeting," he added.
In the last meeting of the parliamentary committee, the members recommended that arrangements be made for their visit to South Korea, China or Japan after Eid to gain experience on railway operations.
However, the ministry said travel restrictions were still in place in South Korea, Japan and China due to coronavirus. If the travel restrictions in those countries are lifted, necessary actions will be taken in this regard, the ministry said.
However, ABM Fazle Karim refused to comment on it yesterday.
An official of the Parliament Secretariat said that there was no discussion on this issue in yesterday's meeting.