Bus strike called for Nov 4-5 in Barishal
BNP says it's a conspiracy to thwart its Nov 5 rally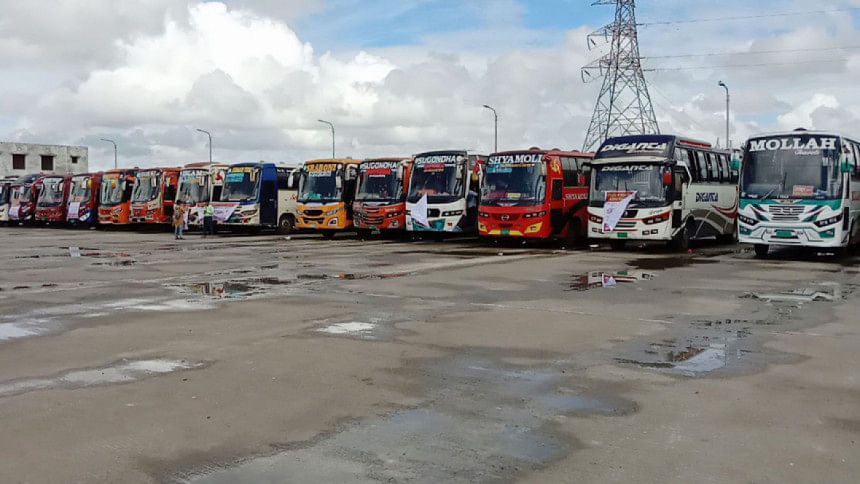 Bus owners have called for a strike on all routes going in and out of Barishal for November 4 and 5, ahead of a BNP rally in the city's Bangabandhu Udyan.
Barishal District Bus Malik Group said they announced the strike to demand a stop to operation of illegal vehicles, including three-wheelers, on highways.
On the other hand, BNP said the owners took the decision to thwart its rally.
The bus-owners' association declared the strike in a memorandum submitted to the divisional commissioner on Monday.
Quoting the letter, Rois Ahmed Manna, joint secretary of the association, told The Daily Star yesterday that they will go for the strike on November 4 and 5 if three-wheelers and other illegal vehicles do not stop plying highways by November 3.
BNP leaders said their November 5 rally is pre-scheduled, and the bus strike was intentionally called on November 4 and 5.
They said it is a government conspiracy to hinder the mass gathering of the party.
However, the transport owners denied BNP's allegations and claimed that there is no link between their strike and rally.
Kishor Kumar Dey, general secretary of the association, said, "We did not even know anything about any rally. Our strike may get longer to realise our demand."
Ignoring a ban, three-wheelers are plying highways, causing road accidents, he added.
Bilkis Akter Jahan Shirin, organising secretary of BNP's Barishal divisional unit, said, "The government has been planning to thwart our rally. Why did they [bus owners] plan to observe the strike right on that day [November 5]?"