Bus, launch operations resume in Barishal as BNP rally ends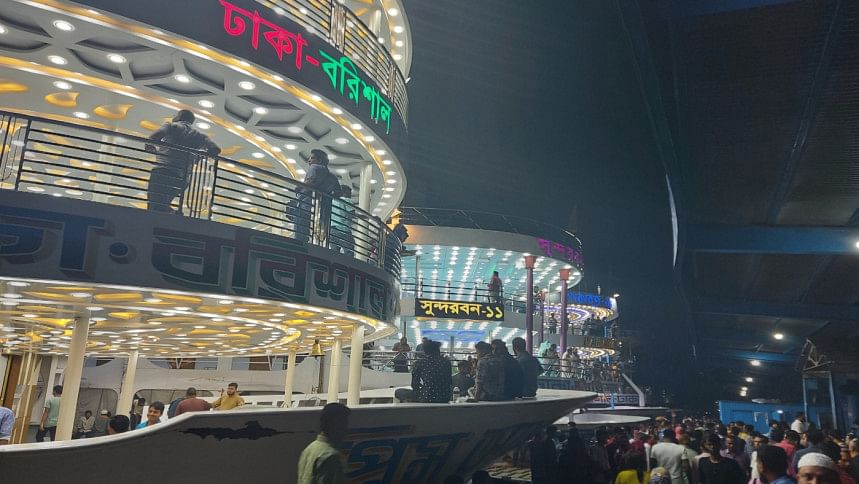 Bus and launch operations on the Barishal-Dhaka route resumed after the BNP's divisional mass rally came to an end this evening (November 5, 2022).
Besides, the movement of three-wheelers also started in the divisional city soon after the BNP's mass gathering was held, reports our Barishal correspondent.
Movement of buses and three-wheelers came to a stop in all six districts of Barishal last morning, ahead of the BNP rally.
Launch operations on Dhaka-Barishal route had also remained suspended last morning without any prior announcement.
Besides, launch services on Barishal-Bhola route remained suspended since Wednesday night after the Awami League and BNP men clashed at Bhola's Bheduria launch terminal.
Witnesses said different buses, including that of Shohag and Sakura Paribahan, left for Dhaka and various other destinations from Nathullabad Bus Stand in Barishal around 7:30pm today.
Talking to this correspondent, Kishore Kumar Dey, general secretary of Barishal District Bus Owners Group, said their strike period was till today. As the strike ended, now all buses will operate normally on all roads.
However, he did not agree to comment whether their demands were met following the transport strike or not.
Meanwhile, launch operations on the Barishal-Dhaka route resumed tonight.
Barishal River Port Officer Abdur Razzaque said the owners have informed that three Dhaka-bound launches have decided to run from the river port. Apart from this, the launch movement of all other routes has returned to normalcy.
During the visit on the spot, this correspondent found that three-wheelers were plying the city roads since this afternoon. Apart from this, movement of vessels also started from the evening.