Commuters dealt the first blow
Bus fares hiked up to 22pc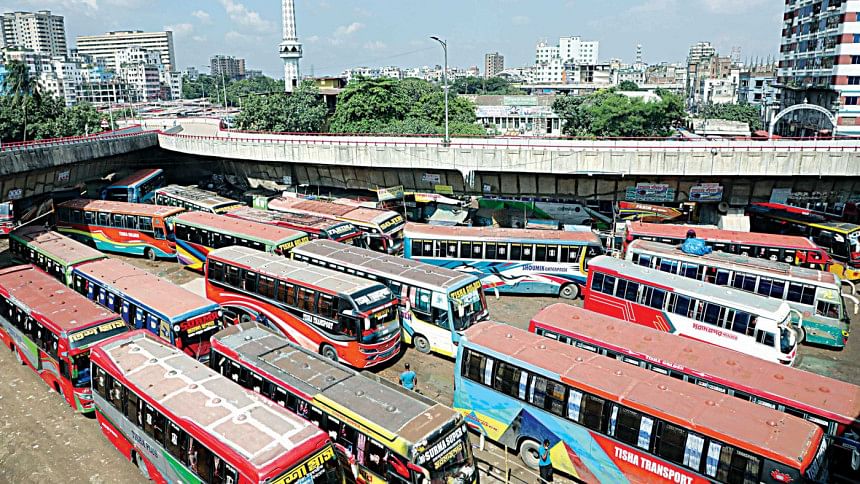 The authorities have increased bus fares by up to 22 percent, a move that will affect the people of low- and middle-income groups.
As per the new rate, the fare for a kilometre of travel on a long-distance bus would be Tk 2.20 from Tk 1.80, a 22 percent hike.
The fare per km on city buses would be Tk 2.50 from Tk 2.15, a 16 percent increase.
Although the new fares come into effect today, many bus operators started charging the new fares soon after the announcement was made around 9:30pm yesterday.
Many had been overcharging since yesterday morning, the day the government's record fuel price hike came into effect. Some in Dhaka and Chattogram cities kept their vehicles off the streets.
Nur Mohammad Mazumder, chairman of Bangladesh Road Transport Authority (BRTA), announced the new rates after a meeting at the BRTA headquarters.
Bus fares were increased 28 percent and launch fares 43 percent in November last year.
"The authorities have increased the bus fare to serve the interest of the bus owners without considering people's suffering," Mozammel Hoque Chowdhury, secretary-general of Bangladesh Jatri Kalyan Samity, told The Daily Star last night.
When everyone was asking for restoration of the previous fuel prices, bus owners were asking for higher fares, he said, adding that it told a lot about their intentions.
Saidur Rahman, executive director of Road Safety Foundation, said bus operators charge more ignoring the fixed rates, compounding public sufferings.
As per the fares, a trip from the capital's Saidabad to Barishal would cost Tk 555. It used to be Tk 454. A trip to Khulna would be Tk 702. It used to be Tk 575.
A bus trip from Bangladesh National Zoo in Mirpur to Notre Dame College in Arambagh would cost Tk 48. It was Tk 41 before.
Ahead of yesterday's meeting, transport owners wrote to the BRTA asking for price hike of spare parts to be considered while fixing new fares.
FOUR-HOUR MEETING
The BRTA chairman-led nine-member government committee and representatives from the BRTA, energy division, Road Transport and Highways Division, and transport associations sat at 5:20pm.
A good number of transport leaders also joined as did Road Transport and Highways Division Secretary ABM Amin Ullah Nuri.
After more than two hours, four people -- two transport owners and two BRTA officials -- started a separate meeting with two-three support staffers.
Around an hour later, they reached a consensus and conveyed that to the road transport secretary, BRTA chairman, and other transport leaders in the BRTA chairman's office.
At 9:30pm, the road secretary said that Road Transport Minister Obaidul Quader had given consent to the committee's proposal.
"We have tried to keep the bus fare to a tolerable level," he said.
Asked about bus operators already overcharging, the secretary did not respond clearly but said they would monitor from today.
Khandaker Enayet Ullah, secretary general of Bangladesh Road Transport Owners' Association, said they accepted the new fares despite the disparity in fuel price and bus fare hikes considering passengers' difficulties.
LAUNCHES TOO
Launch fares are also likely to see a hike and the owners have already readied a letter containing their demands.
Badiuzzaman Badal, senior vice-chairman of the Bangladesh Inland Waterways (passenger carriers) Association, said, "In the letter, we have sought a rise in fares with due consideration to the fuel price hike."
Rafiqul Islam, director (traffic) of Bangladesh Inland Water Transport Authority, said they would have a meeting to fix the fares after receiving the letter.