Bus fare on 15 routes via Dhaka-Mawa Expressway to go up from tomorrow
Bangladesh Road Transport Authority (BRTA) today (June 30, 2022) reset bus fares for 15 routes – via Dhaka-Mawa-Bhanga Expressway, raising the fares by Tk 31–Tk 66.
BRTA set the new rate as the road authority is going to impose toll on vehicles for using the country's first expressway, formally known as "Jatir Pita Bangabandhu Sheikh Mujibur Rahman Highway", from tomorrow.
With the new rates, the authorities increased the bus fare for the second time in a month. Earlier, on June 8, BRTA refixed bus fares for 13 routes adjusting the toll for Padma Bridge, which opened to traffic on June 26.
Out of the 15 routes, 12 are from Dhaka's Sayedabad to destinations in the southwest, while rest are from Chattogram and Cox's Bazar via Dhaka, BRTA sources confirmed to The Daily Star.
As per the new rates, bus fare for Dhaka to Barishal via Bhanga would be Tk 454, which is Tk 33 more than the previous rate.
The highest Tk 66 was increased on Dhaka-Kuakata via Barishal, Patuakhali route. The new fare would be Tk 767 while the previous fare was Tk 701.
Bus fare from Dhaka to Gopalganj would be Tk 423 from Tk 392; Dhaka to Khulna via Gopalganj would be Tk 575 from Tk 537; Dhaka to Shariatpur via Jazira would be Tk 257 rom Tk 225; Dhaka to Pirojpur via Barishal would Tk 580 from Tk 532; Dhaka to Pirojpur via Gopalganj, Bagerhat would be Tk 619 from Tk 583.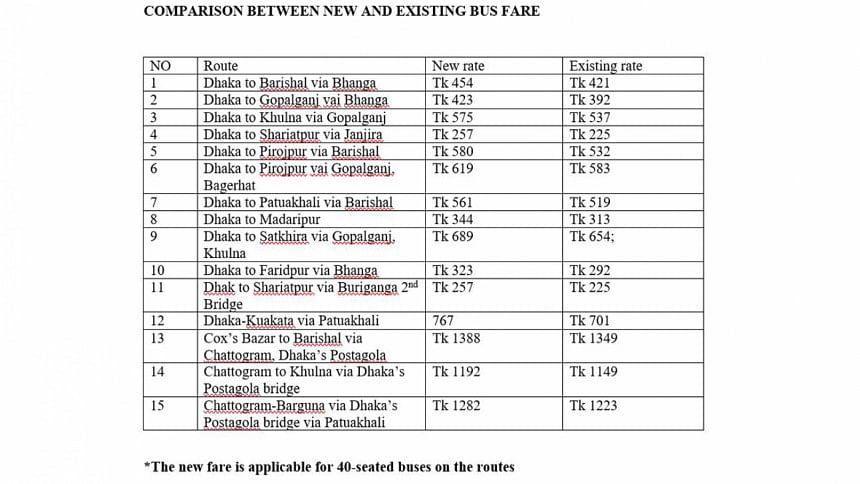 Bus fare from Dhaka to Patuakhali via Barishal would be Tk 561 from 519; Dhaka to Madaripur would be Tk 344 from Tk 313; Dhaka to Satkhira via Gopalganj, Khulna would be Tk 689 from Tk 654; Dhaka to Faridpur via Bhanga would Tk 323 from Tk 292; Dhaka to Shariatpur via Buriganga second bridge would be Tk 257 from Tk 225.
Bus fare from Cox's Bazar to Barishal via Chattogram, Dhaka's Postagola Bridge, Bhanga, Madaripur would be Tk 1,388 from Tk 1,349; Chattogram to Khulna via Dhaka's Postagola bridge, Bhanga would be Tk 1,192 from 1,149; and Chattogram-Barguna via Dhaka's Postagola bridge via Barishal, Patuakhali would be Tk 1,282 from Tk 1,223.
The new fare will be applicable for 40-seated buses on the 15 routes mentioned.