Patuakhali, Pirojpur passengers suffer as bus services suspended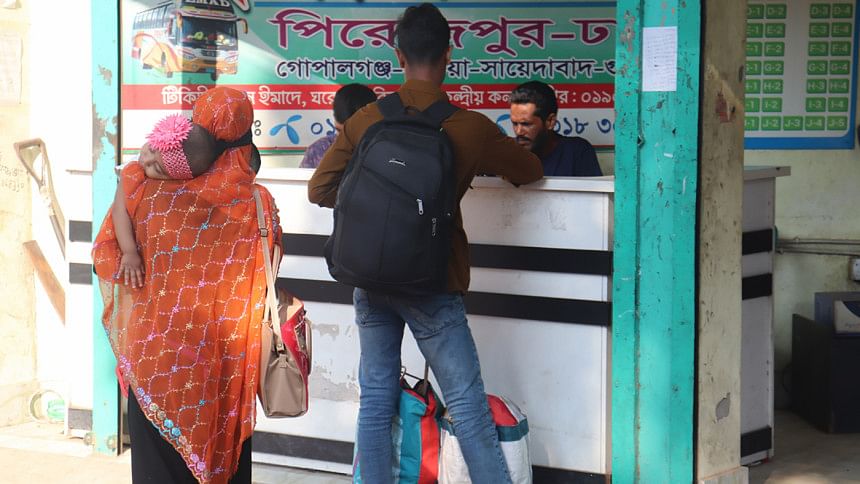 Passengers of Patuakhali and Pirojpur are bearing the brunt as bus services in the districts were suspended this morning (November 4, 2022) ahead of BNP's divisional rally in Barishal tomorrow.
Patuakhali
All bus services on eight internal routes of Patuakhali along with external routes leading to Dhaka and other parts of the country were suspended following a strike called by Patuakhali District Bus Owners' Association last afternoon.
Riyaz Uddin Mridha, president of the association, said that they called the strike demanding removal of unauthorised three-wheelers from roads.
General commuters along with tourists in Kuakata were suffering as a result of the strike.
Many passengers were seen returning home from the Patuakhali Bus Stand around 8am after not being able to avail any buses.
"Wanted to go to Dhaka, but now going back home as no buses are running," said Jakir Hosen, who came to the town from Auliapur village in Sadar.
Another passenger at the bus stand, Abdus Shakur also failed to go to Khulna to attend an urgent matter.
Meanwhile, Snehangshu Sarkar, general secretary of BNP's Patuakhali district unit alleged that party leaders and activists are facing obstacle on every step of their way to go to Barishal to attend the rally.
"A trawler carrying more than 500 activists and supporters was barred from leaving for Barishal by members of local Awami League and associate organisations," he said adding that BNP leaders are being threatened at their homes too.
Monirul Islam Liton, president of district Juba Dal unit, said that he along with others went to Barishal by a bus last night.
"Criminals vandalised the bus just after we managed to get down," he said.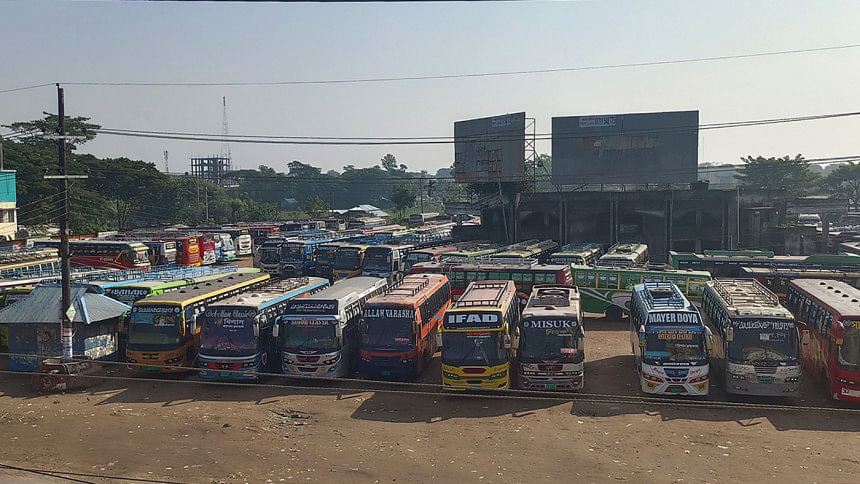 Activists of AL and associate organisations are barring on the streets the leaders of Juba Dal, BNP, and Chhatra Dal who are trying to go to Barishal, he also claimed.
However, Abdul Mannan, general secretary of district AL denied such allegations.
Pirojpur
Bus services were also suspended in Pirojpur as part of the two-day strike called by Barishal Divisional Bus Owners' and Workers' Federation in the morning (November 4, 2022).
Due to the suspension of bus services, passengers of all routes from Pirojpur to Khulna, Barisal, Jhalokati, Barguna, Mathbaria, Bhandaria, Nesarabad, Kaukhali, Indurkani are having to reach their destination by alternative means. Many opted for using battery-operated three-wheelers and other vehicles paying extra fare.
Most of the passengers said they did not know about the divisional suspension of bus services.
Md Maidul Islam, who came from Dhaka to Pirojpur in Tabligh Jamaat this morning, said that he needed to go to Dhaka for urgent reasons.
But when he came to the counter, he came to know that the bus services were off.
"Now I am looking for an alternative way to go to Dhaka as it is urgent," he said.
Mohammad Faruk, who also came to Pirojpur from Dhaka, said that he came to Pirojpur for business purposes.
"If I don't reach Dhaka by today, my business will suffer," he said.
Md Abdur Razzaq brought his son, who is a student of Sylhet Osmani Medical College, to Pirojpur Bus Stand.  Abdur Razzaq's son's classes will start tomorrow.
"My son had planned to reach Dhaka at noon today and go to Sylhet by night. Now I see it won't be possible in any way."
Another passenger, Abul Kalam Azad expressed his anger.
"There is no connection of buses going to Dhaka from Pirojpur with the rally in Barishal. Then why should buses on this route not run?"
"The owners' association has been asked to stop the movement of buses. So, they have stopped bus services to Dhaka. It is likely to start by tomorrow afternoon," said Md Iqbal Khan, who works at the counter of Imad Paribahan at the terminal.