'Allow students to pay half, fix fares of all public transports'
Jatri Kalyan Samity asks govt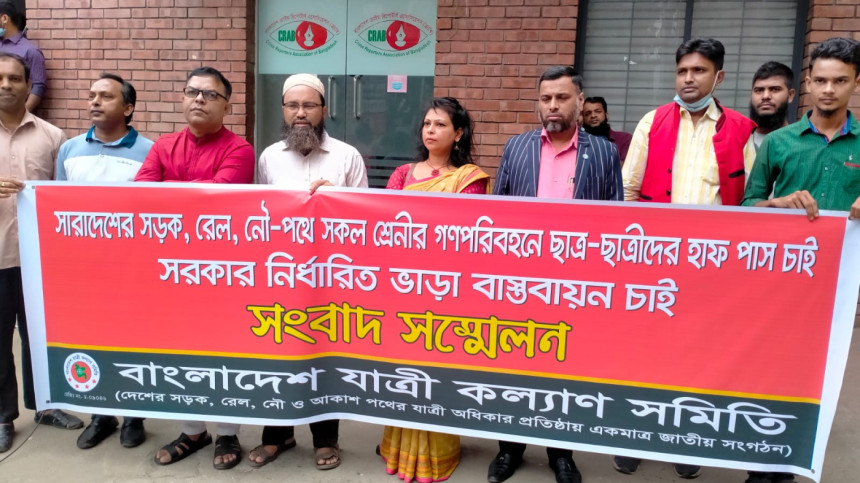 Allow students to travel at half fare on all modes of public transport by road, rail and waterways, Jatri Kalyan Samity Secretary General Mozammel Haque Chowdhury demanded today.
During a press conference at the Dhaka Reporters' Unity today, Mozammel also demanded to free passengers from the "anarchy" of collecting extra fare and urged the government to fix transport fares for all modes.
"After a long student movement, first the road transport and bridges minister announce half fare for students travelling on state-owned BRTC buses across the country and later the Bus Owners Association announced to provide the half pass facility to students in Dhaka metropolis from December 1, but it has not been fully implemented yet," he said.
"Also, students are not allowed in many buses and are even misbehaved if they want to pay half fare," he said.
"As a result, many students are being pushed off the buses," he claimed, adding that there was a possibility of a big movement if any untoward incident took place.
"Leaders of the transport sector are responsible for such mismanagement on the road. For a positive change in this sector, a change in the current leadership of transport owner-worker leadership is essential," said Mozammel.
"These leaders are taking advantage of the government in various ways by holding people hostage in the name of transport strike," he added.
To this end, the organisation presented a 20-point recommendation to the government.