60% work of HSIA terminal 3 completed, says state minister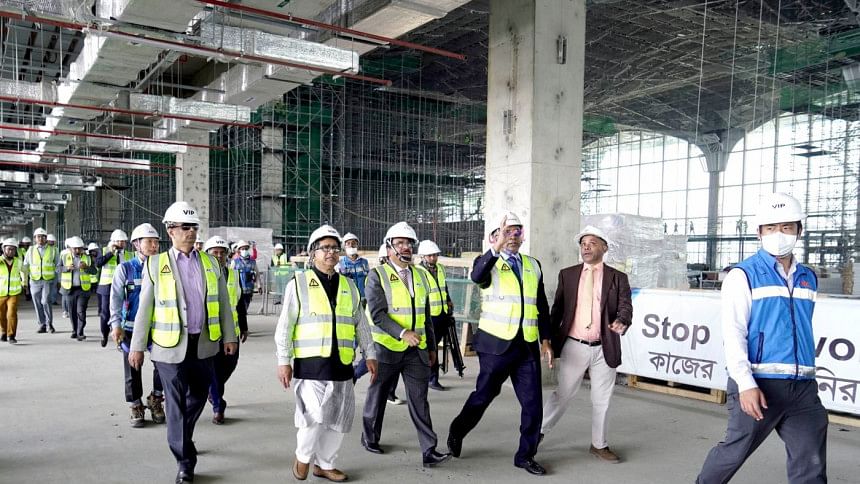 Sixty percent work of third terminal at Dhaka's Hazrat Shahjalal International Airport has been completed, State Minister for Civil Aviation M Mahbub Ali said today.
The iconic terminal will be opened for operation in October this year, the junior minister said at a press conference after monitoring the progress of construction work of the terminal.
The state minister also inspected the passenger services and various activities of the Terminal 1 and 2.
"The spectacular terminal building is now visible. Currently, the interior decoration of the terminal building and the installation of various types of equipment are going on," he said.
Mahbub also said according to the directives of Prime Minister Sheikh Hasina, various development works including increasing the strength of runways, construction of new terminal building, modernization of security system are going on in all airports of Bangladesh.
"Due to the infrastructural limitations of the current terminal, we cannot provide the desired service to the passengers, but we have continuous efforts to improve the quality of service," he said.
He said the ministry is constantly monitoring the operations of the current terminals to ensure that no passenger is harassed anywhere in the airport.
"After the inauguration of the third terminal, passengers will get international quality services," said the state minister.
He also visited immigration, customs hall, check-in counter, baggage area, expatriate welfare desk and green channel at the airport.