Ghatarchar-Kanchpur Route
120 buses under one authority from Dec 1
Operations to start on pilot basis as part of bus route rationalisation project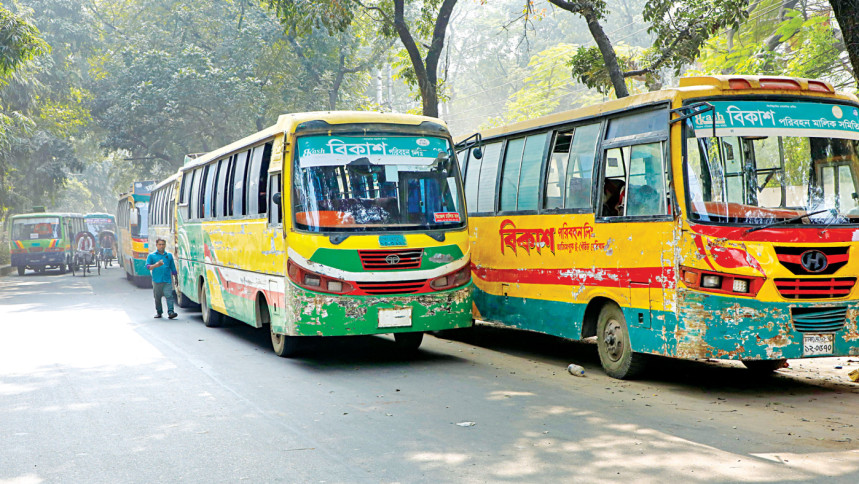 A total of 120 brand new, green-coloured buses will ply Ghatarchar-Kanchpur route under a single authority on a pilot basis from December 1, as part of the government's bus route rationalisation initiative.
Dhaka Transport Coordination Authority (DTCA) has already prepared a draft guideline to run the buses under the name "Dhaka Nagar Paribahan". It has also prepared a draft of the joint venture contract for agreement among bus owners.
All the buses will run under a management committee comprising bus owners, and it will be responsible for the whole operation, said an official of Dhaka South City Corporation (DSCC).
He said the committee will report to DTCA.
Currently, there is no guideline to run the buses in the capital. Discussions centring the draft guideline will take place in a meeting with stakeholders on December 24. It will then be presented at the 19th meeting of the bus route rationalisation committee on December 28 for approval.
Around 40 passenger stoppages and 16 bus-bays will be installed on the pilot route. But work for bus-bays will start after inauguration, the DSCC official said.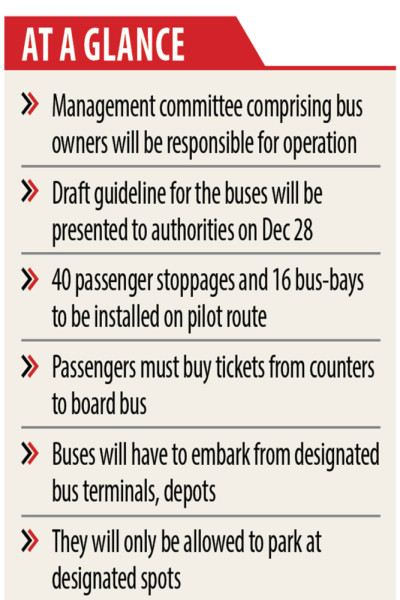 No passenger will be allowed to board the bus without a ticket, which will have to be collected from certain counters, he said.
Design of the buses has already been prepared, and a model bus has been made, he added.
According to Bangladesh Road Transport Authority's (BRTA) route permit data, 382 buses plying 13 routes pass through Ghatarchar-Kanchpur. All the buses will be phased out, and the 120 buses will take their place.
According to "Bus Route Franchise Piloting Draft Guideline-2021", all the buses will have to embark from designated bus terminals or depots and operate at fixed times, which will be decided by authorities concerned..
The buses will only be allowed to park at designated spots, including bus terminals or depots.
After entering a terminal, every bus will have to leave the terminal in five minutes during peak hours and in 10 minutes during off-peak hours, and work of drivers will be logged, according to the draft guideline.
After the 18th meeting of the bus route rationalisation committee at Nagar Bhaban, DSCC Mayor Sheikh Fazle Noor Taposh announced that the buses will run on a 21-kilometre route, stretching from Ghatarchar in Keraniganj to Kanchpur, from December 1.
After introducing the pilot route, other routes would be linked to it, he said.
Bangladesh Bank had approved Tk 100 crore loan for bus owners of Kanchpur-Ghatarchar route. Mayor Taposh, however, said the funds will be used for developing the next phases.
A government-formed committee had proposed fixing the bus fare at Tk 2.2 per kilometre for the route. The proposed fare is almost 30 percent higher than current fares in Dhaka city.
The committee, led by BRTA Chairperson Nur Mohammad Mazumder, made the decision at a meeting at BRTA headquarters on February 1.