Pandemic chronicles: No tourists mean no money to feed the horses of Cox's Bazar beach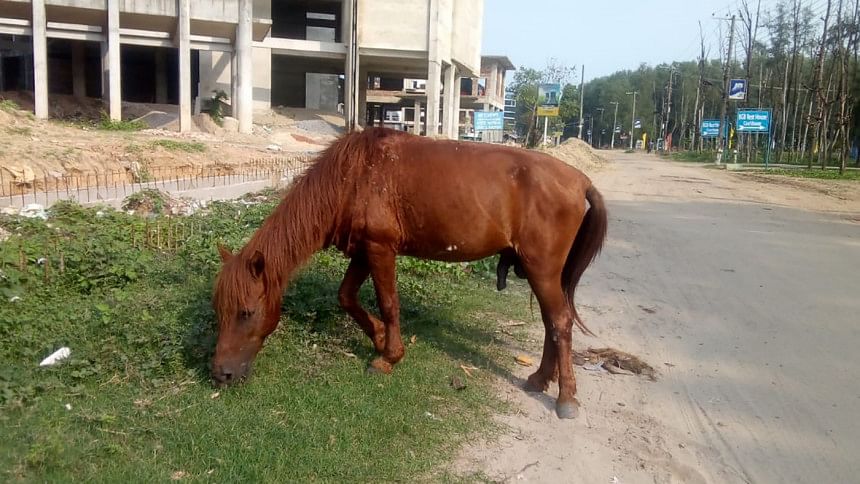 Chancing upon tourists horseback riding along the beaches of Cox's Bazar would have been a common sight during the bustling tourist season. But not anymore.
The prolonged pandemic and its many assaults have left the busy Cox's Bazar beach town empty and, in its wake, has taken the last source of income for those who used to tend and keep these horses for tourism purposes.
Tourists were the primary source of income for these horse owners and with no disposable income so to speak of, they cannot provide sufficient fodder to the horses.
Some desperate owners have even freed their horses that now roam the streets of the town in search of fodder. Locals have even found some horses looking for food in different dustbins and other places.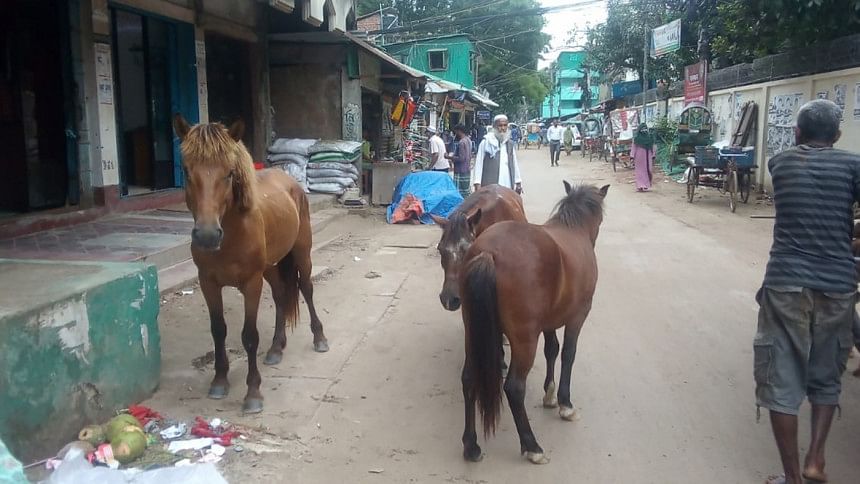 At least 46 horses died of starvation in the last 15 months, according to owners' association.
After the death reports were published in different newspapers, a group of layers, environmentalists and wildlife activists on June 29 filed a writ petition seeking the court's directives for necessary measures  
After primary hearing, a High Court Bench verbally directed Cox's Bazar deputy commissioner (DC) to take necessary measures for arranging fodder and accommodation for these horses.
Following the directive, the district administration with the help of local livestock officers formulated a list of 55 horses and 16 owners.
But owners' association had submitted a list of 27 owners to the district administration.
"At least Tk 500 is needed to arrange fodder for a horse daily. Due to the pandemic, our income is now so low that we cannot arrange food for our family members. So, how will we arrange fodder for horses," said Mohammad Alam, president of Cox's Bazar Horse Owners Association.
"I have nine horses. Three of them are sick. The district administration arranged fodder twice. Other than that, a few individuals and private organisations provided some fodder. But that is insufficient," he said.
Md Amin-Al Parvez, additional deputy commissioner (revenue) of Cox's Bazar, said "The district administration provided fodder for 55 horses in two phases. More fodder will be arranged, if necessary."
Dr Ehsanul Haque, Cox's Bazar Sadar upazila livestock officer, said they were providing treatment to these horses. But fodder is more important for survival of the horses.