Rush Out of the Capital: Fear of hard days spurs it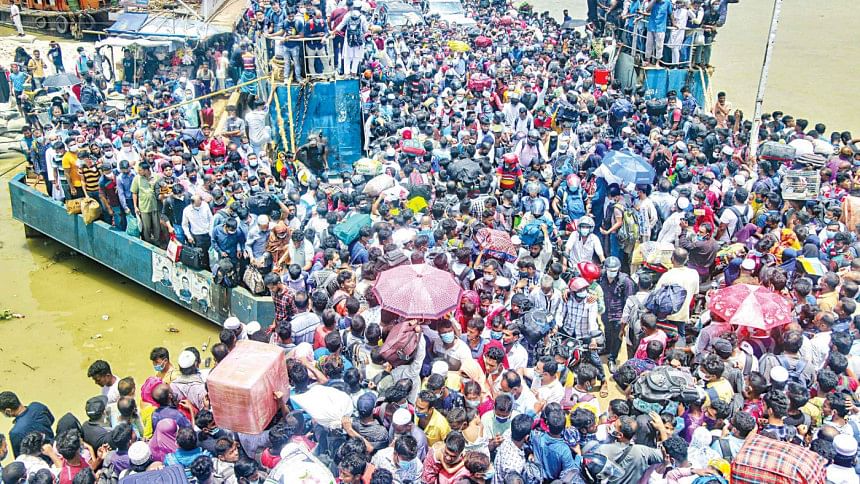 People in their thousands, mostly low-income ones, made desperate bids to leave the capital yesterday ahead of the nationwide complete lockdown from Thursday.
They boarded trucks, pick-ups, three-wheelers, human hauliers and rode motorbikes to go back to their village homes, disregarding the health safety rules.
Most of the home-goers were low-income people who feared that they would lose their livelihoods in the city and face starvation if the lockdown continues till the Eid-ul-Azha.
Many others who came to the capital from different districts for treatment or other emergencies were also seen heading for their village homes.
The government is set to enforce nationwide strict restrictions from today till Wednesday and complete lockdown from Thursday to curb the spread of the novel coronavirus.
With public transport suspended to and from seven districts around the capital, many took three-wheelers and human hauliers and even got on trucks and pick-ups to reach their destinations in those districts, leading to traffic congestions on different roads.
Thousands of home-goers, including women and children, waited for hours at Shimulia and Paturia ferry terminals to cross the Padma.
They took detours and changed vehicles multiple times to go home. Many others walked long distances to reach their destinations.
The exodus began on Saturday after the announcement of complete lockdown amid a surge in Covid deaths and infections across the county.
In a statement on Friday, the Press Information Department said nobody would be allowed outdoors unless there is an emergency. This was the first time the government used the word "lockdown" while announcing coronavirus restrictions.
The announcement gave rise to an apprehension that the lockdown may be extended till the Eid-ul-Azha.
In a gazette notification yesterday, the Cabinet Division said all government and non-government organisations will be able to keep their offices open till Wednesday with a limited number of staffers.
Health Minister Zahid Maleque yesterday said members of police, Border Guard Bangladesh and the army would be patrolling the streets to enforce the restrictions on public and vehicular movement from Thursday.
FEAR OF LOSING LIVELIHOOD
Fifty-year-old Amanat Mia, along with nine other rickshaw-pullers, was walking to Gabtoli bus terminal from Kalyanpur to get a vehicle to go to his village home in Satkhira.
Talking to this correspondent, he said they came to the capital last month with the hope of earning some money before the Eid. But the sudden announcement of lockdown dashed the hope, making things uncertain.
Fatema Jannat Moni, worker at a T-shirt printing factory in the capital's Mirpur, was waiting at Gabtoli for a vehicle to return home in Nilphamari's Dimla.
The 18-year-old woman who get a monthly salary of Tk 6,500 lived in a messin the area along with some of her co-workers.
"The factory owner recently told us that it will be closed during the lockdown and there will be no work. If the lockdown is extended, the factory will not open before the Eid. All my co-workers have already left the capital," she told this newspaper. 
Roni Hossain, a former worker at a machinery factory in Gazipur, was waiting along with his wife and child at Shimulia ferry terminal to go to his village home in Barishal.
"The factory management sacked me and some other workers to minimise expenses. The job was my only source of earnings in the capital. I have no other choice but to go home with my wife and child," the 40-year-old told our Munshiganj correspondent.
SUFFERINGS
Tengra Mia and his three family members were waiting at Gabtoli for a vehicle to go back to Jhenaidah.
The 70-year-old man recently underwent a surgery on his neck at Dhaka Medical College and Hospital.
"A car driver is asking for Tk 2,000 per person. The amount is four times the usual bus fare of Tk 500 each. We were not prepared for this sudden announcement of lockdown," Tengra Mia's younger brother Abdul Latif told this newspaper.
Law enforcers stopped scores of vehicles at various points on Dhaka-Mymensingh highway in Gazipur to prevent people from entering the capital from surrounding districts. Many people either had to walk or get on small vehicles to reach their destinations.
Meanwhile, thousands of people crowded Shimulia-Banglabazar and Paturia-Daulatdia ferry terminals to go to the southern districts, crossing the Padma.
Our correspondent in Munshiganj reports that ferries at Shimulia were jam-packed with passengers who showed utter disregard for the health safety rules.
Zakir Hossain, Mawa traffic police in-charge, said the terminal was more crowded yesterday compared to that on Saturday.
"At least 400 vehicles are waiting for ferries. The crowd has become unmanageable and no one is following the health safety guidelines," he added.