Assumed dead, woman returned to family from Nepal after 22 years
She might have been a victim of human trafficking
Twenty-two years ago, Ameena Khatun of Bogura's Dhunot upazila went missing. Her three sons and a daughter could not find her and assumed that their mother was no longer alive.
They even mentioned their mother as "deceased" in their voter identity cards.
Thanks to the Bangladesh Embassy in Nepal and local administration, Ameena was found alive and well in the Himalayan country last May.
A special flight of Biman Bangladesh Airlines brought back Ameena Khatun, now around 75, to Dhaka this afternoon.
"She was possibly a victim of human trafficking," the Bangladesh Embassy in Nepal said in a Facebook post.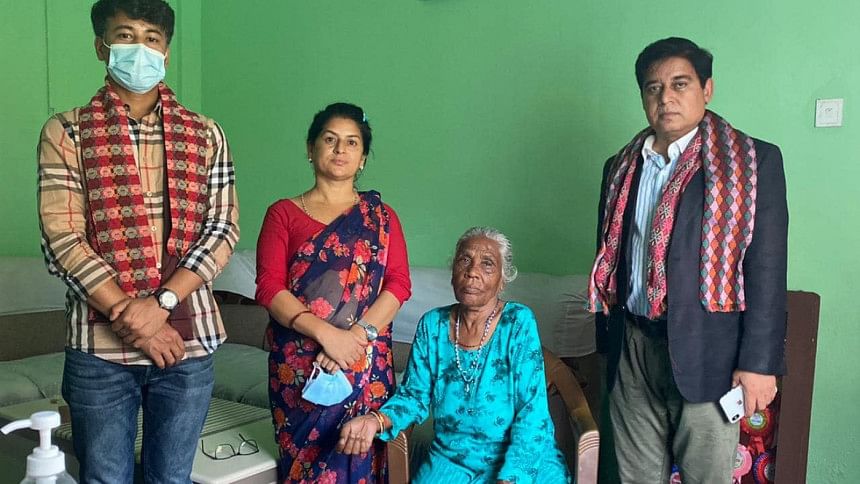 "Bangladesh Embassy in Nepal completed the whole process and bore all expenses to bring her back and returned her to family members at Hazrat Shahjalal International Airport," Masud Alam, councillor of Bangladesh Embassy in Nepal, who accompanied Ameena during the journey, told The Daily Star.
"A special chartered flight of Biman, carrying Ameena, departed Kathmandu's Tribhuvan International Airport at 11:45am (local time)," AFM Anisur Rahman, Biman's country manager in Nepal, told this correspondent.
Bangladesh Ambassador to Nepal, Salahuddin Noman Chowdhury, among others, saw Ameena off at the airport. "She was received at Dhaka airport by her grandchildren and three sons," said councillor Masud.
Asked how Ameena was found, Masud said on May 30, Mukesh Mehta, in Sunsari district of Nepal, in a Facebook post mentioned that a Bangladeshi woman was rescued under the supervision of Jamuna Gautam Pokhrel, deputy mayor of the municipality.
Abhinav Chowdhury, chairman of Nepal-Bangladesh Youth Conclave, and Masud Alam were mentioned in the comments under that post.
The Bangladesh Embassy staff at first failed to identify Ameena while talking to her over the phone. Later, on the advice of Ambassador Salahuddin, Masud went to Sunsari -- about 450km from Kathmandu -- on June 1.
Biplob Ghosh, president of the Sunsari Bengali community, assisted him during that time. After speaking to Ameena, her identity and names of her family members were confirmed through the efforts of Bogura district National Security Intelligence (NSI) officials.
Deputy Mayor of Nepal's Sunsari district Jamuna Pokhrel on August 31 handed Ameena over to Ambassador Salahuddin at a simple ceremony held at the Embassy of Bangladesh in Kathmandu.
"It was learnt from locals that Ameena had been living in destitute in Sunsari for a long time," Bangladesh Embassy in Nepal said in its Facebook post.
Councillor Masud Alam said, "We are happy to fulfil the government's responsibilities and serve a helpless citizen abroad."
Masud also expressed gratitude to all those who helped in finding Ameena.