They fought for children and won
Sirajganj admin backtracks from decision to build houses on playground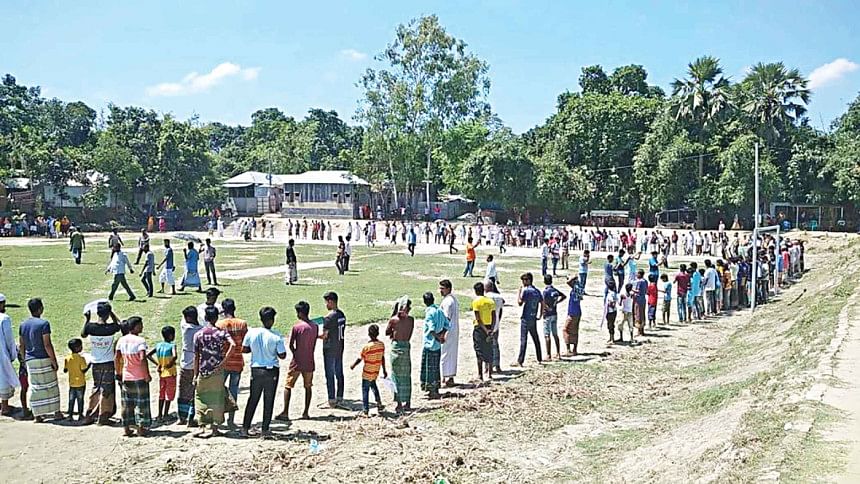 Amid mass protest, local administration have backed down from their decision to build houses for the destitute under "Ashrayan Project" on a playground at Boldipara village in Sirajganj's Shahzadpur upazila.
An alternative site has been selected for the project at Kashipur village of the district.
Confirming the information, Shahzadpur upazila nirbahi officer (UNO) Md Torikul Islam said, "As there is no other suitable  land in Kayempur union (where Boldipara village is located), we submitted a proposal to the relevant ministry to build houses for the poor at Kashipur village in Gala union of Shahzadpur."
 However, Md Jiaul Alom Jhunu, chairman of Kayempur union, said, "Now the project has been shifted to another union, so the poor and homeless people of this union will be deprived."
Locals have been protesting since July against what they called a struggle to save the playground of their children.
It turned violent on August 21 when Assistant Commissioner (land) Liakot Salman and a girl were injured in a clash between villagers and "supporters" of the local administration over the construction of houses on the playground.
Most men of Boldipara and adjacent villages went into hiding  soon after as a case was filed against 174 locals. Seven women of the village are still behind bars over the clash.
"We are still hiding to evade arrest," Md Rawshon Alom, a resident of Boldipara village and also a key organiser of the protest, told The Daily Star over phone.
"Although we are on the run, we feel happy that the local administration has changed their decision to construct houses on the  century-old playground,'' he said.
When the villagers came to know that the century-old playing ground will be occupied for Ashrayan project, they  united, keeping their differences aside for the sake of their children, he claimed.
However, the case filed against protestors  will continue, said OC Nazrul Islam of Shahzadpur Police Station.
Asked, officials from the administration also said the case is a police matter and involves legal issues.