Stop Kalabagan police station construction on Tetultala playground: Activists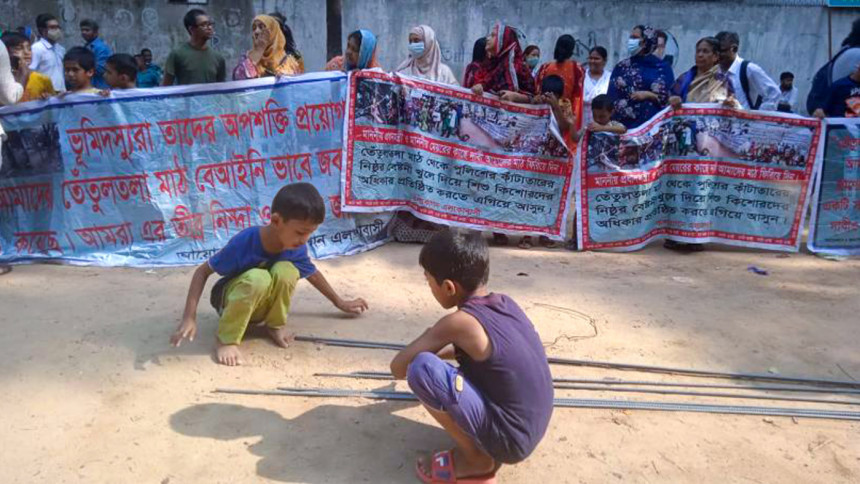 Environmental organisations today demanded that the government withdraw the decision of constructing Kalabagan police station building on Tetultala playground and keep it open for all.
The green activists demanded a fair investigation into the detention of Syeda Ratna, a community leader trying to save Tentultala playground, and her 17-year-old son and bringing those involved with the incident to justice.
They also urged the government to ensure security of Syeda Ratna, her family, including her son, and other locals demonstrating for protecting the playground.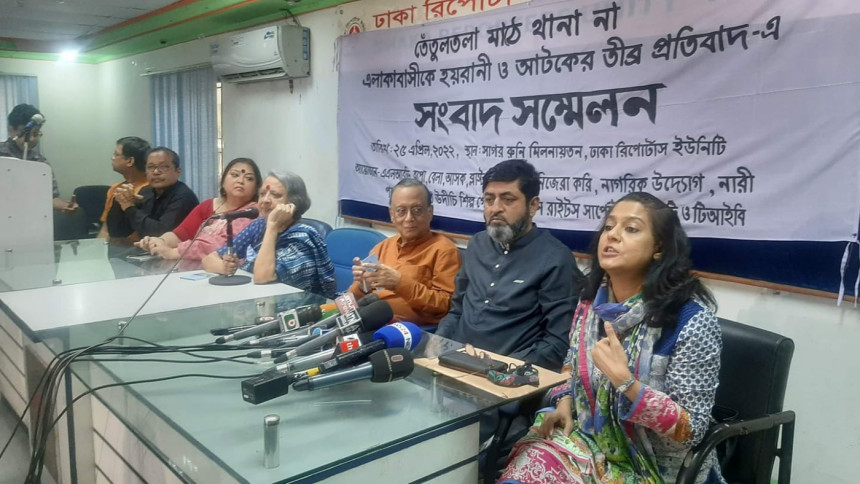 Leaders of at least 12 organisations, including Bangladesh Poribesh Andolon, Bangladesh Environmental Lawyers Association, Nijera Kari, Nagorik Udyog, Bangladesh Udichi Shilpi Goshthi, and Bangladesh Legal Aid and Services Trust (BLAST) made the demand at a press conference held at Dhaka Reporters Unity today.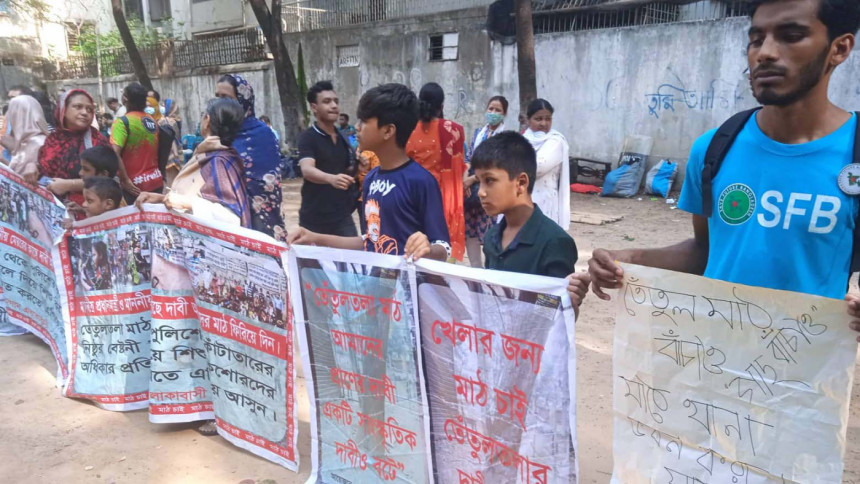 Kalabagan police on Sunday (April 24, 2022) picked up Syeda Ratna, who has been leading protests to save Tetultala playground in Dhaka, along with her son Mohammad Isha Abdullah yesterday morning.
They were released around 13 hours later following an undertaking that she cannot conduct any demonstration to save the Tetultala playground.
"Police could have arrested her after filing a case if they thought she broke a law…. But police just cannot pick up anyone randomly as per their whims and they also can't pick up a minor and keep him locked up," said Syeda Rizwana Hasan, chief executive of Bangladesh Environmental Lawyers Association (Bela).
Mentioning the detention of Ratna, on charge of creating obstacles to government duty, Rizwana asked: Is constructing a police station on a playground a government job? Is picking up a woman and her son, who is a minor, for demonstrating to save the playground a government job?"
"We don't think this is a government job. There is no scope to legalise illegal activities in the name of 'government work'," she said.
"There are many abandoned houses in Dhaka where they can construct police station. Our country is densely populated and so its capital, which remains in top of the list of unliveable cities in the world. It will be a suicide if playgrounds are taken away," said Rizwana.
"Where will local children play? Can the government answer? Or will children just play games on computers?" – she asked.
Iqbal Habib, joint secretary of Bapa, said in the proposed Detailed Area Plan (DAP), Tetultola playground is not earmarked as a playground. But in sub-zone-17 (Dhanmondi, Zigatola, Kalabagan and Kathalbagan) there is a proposal to keep sufficient open space for the areas.
According to the playground, open spaces, parks and water bodies conservation act, no one can change the characteristics of a playground, Habib said, adding that the place has been used as a playground for a long time and changing its characteristics will be illegal.
A protest rally was held at the Tetultola playground in the afternoon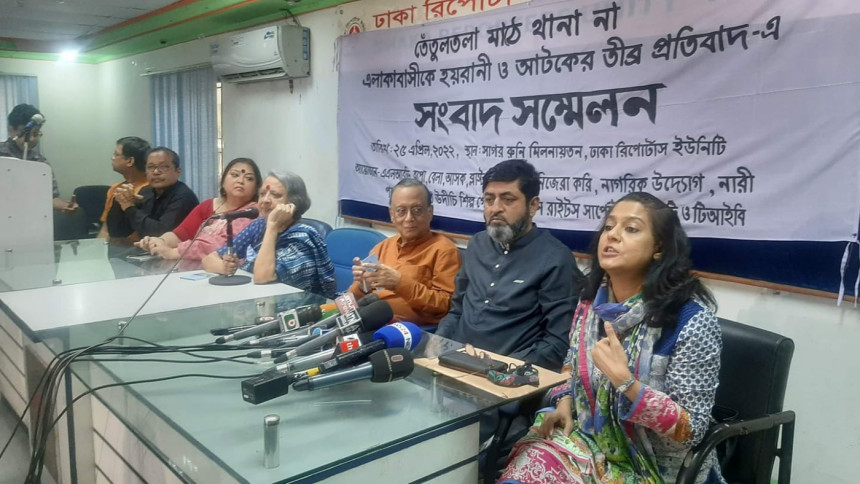 According to a 2014 High Court judgement, there is a specific direction for the DC office to take action against any encroachment on open spaces or playgrounds, but the office is not taking any steps in this situation, the activists said.
On January 31, Dhaka deputy commissioner's office handed over the playground's land to Dhaka Metropolitan Police (DMP) to set up an establishment for Kalabagan Police Station, which is currently located at a rented place on 30 North Road.
Amid a dearth of open spaces in the capital, this is yet another example of how the city dwellers are continuing to be deprived of playgrounds and parks.
For several months, local residents have been demonstrating with the demand to keep it as it is for the sake of children.
Over the years, Tetultala playground, which covers around one bigha of land, had been in use in multiple ways. It has been used as a playground, an Eidgah, and a place for janaza.