A safe working environment for domestic workers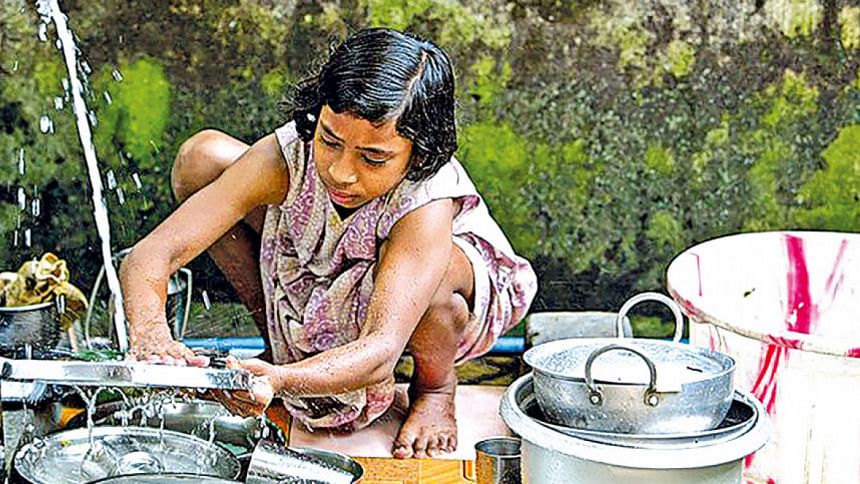 A child of seven or eight is sent to work because the economic strength of the parents is in dire straits and they cannot afford to feed the child. The sting in this act is so severe that only a parent can understand the helplessness and void of it all.
These helpless families send their wards to cities, to unknown guardians, in the hope that the child will eat three meals a day, sleep with a blanket, get medical help when need be, and importantly stay safe. It is obvious that they will also earn a living so that siblings back home can eat proper meals.
It is a painful choice yet parents of our villages are constantly deciding to send their children as domestic workers to mistresses, who are also mothers, in the hope that they will be loved while doing the grave job of earning for their poor family.
At city homes, these children are left at the hands of fate. There are simply two outcomes of this situation -- that they are treated with love and stay as expected: happy and well-fed.
Or, the worst happens and they are maltreated; the extent of this conduct often leads to being battered, molested, injured, burnt, or even murdered -- how sorrowful do the lives of these parents and children become in that case then?
Imagine a scenario where you are enjoying family time and the domestic worker who is either your child's age or a little younger or older, is scraping off grim from your utensils. You are enjoying a treat and s/he is washing your clothes. You do not let your child pour a drink from the bottle and here you are a mother who is making another child work heavy chores all because they were born poor and fate had a different story written for them. This cannot be a motherly act or even a sensible one.
Let us relate the case of one Parul Hossain, now 21 but first sent to Dhaka at the age of 8. She was a bright student and the youngest among eight sisters. Foreseeing a bright future, the lady of the house admitted her to a day school where she studied after her work hours. Later when school was finished, she was sent as an apprentice to a tailor to learn the vocation of dress-making.
Now some 12 odd years later she is preparing to leave for Hong Kong, where she will start the work of looking after elderly grandmothers. Her two sisters, who served the same mistress and her friends, are migrant workers too.
Amidst such a positive narrative, there is the sad story of the brutal murder of a child domestic worker, allegedly by her employer, recently doing rounds in newspapers, with headlines such as 'Yet another murder'. The body of the 10-year-old girl was recovered on February 27 from a freezing van in front of a hospital in Moghbazar. The word 'yet' refers to many such atrocious and grim stories of children being murdered by employers.
What we fail to understand is how being a parent can anyone be so brutal to children. It is disheartening to see, in these modern times, that you maltreat a child. All those shiny lifestyle you enjoy could not elevate your mindset.
Recently, the government is talking about formulating policies for improving the lives of domestic workers. Shirin Akhter MP while speaking at a public gathering held by DigitALL Innovation and Technology for Gender Equality, jointly organised by Karmojibi Nari and Dushtha Shasthya Kendra (DSK), held at the capital's Rabindra Sarobar recently said —
Their rights have been long overdue. We won't wait any longer. Safe working environment, wage, social security, maternity leave must be ensured for them.
We hope that such words of assurance are upheld and that we see laws are enacted and ensured to make working environments for domestic workers free from abuse and maltreatment. Here's wishing that all domestic workers, child and adult, an abuse-free working condition.