"Rights activists could meet UN rights chief as Bangladesh not police state"
Says Law Minister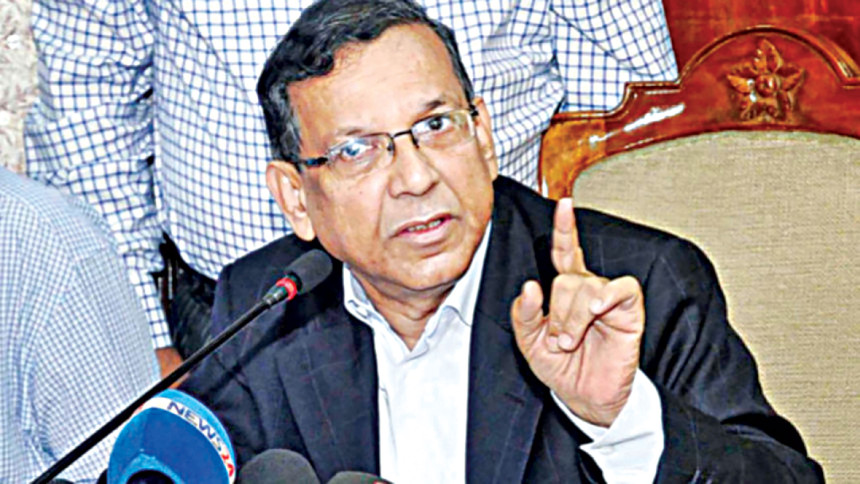 Law Minister Anisul Huq today (August 16, 2022) criticised human rights activists of the country for expressing concern about the human rights situation in Bangladesh to United Nations High Commissioner for Human Rights Michelle Bachelet.
"They could hold a meeting as Bangladesh is not a police state", the law minister said while speaking as chief guest to a meeting titled as "Bangaleer Shoker Shraban" organised by Sampreeti Bangladesh, a citizens' platform promoting secularism, on the occasion of National Mourning Day at Jatiya Press Club in Dhaka.
"They held a meeting with the United Nations Human Commissioner of Human Rights and told her that Bangladesh is a police state, it is not for the people. Here is my question, has anybody prevented them from holding the meeting and telling her this? Their statements have been published in the newspapers. Has the government gauged the newspaper to stop publishing their statements? The government has not done all these. The people of opposition political parties say whatever they wish on television talk shows. But, the government never obstructs them from doing so. This is freedom of press and freedom of speech," Minister Anisul Huq said.
Around 20 rights activists yesterday (August 15, 2022) met visiting UN High Commissioner for Human Rights Michelle Bachelet at a city hotel and urged her to impress upon the government the need for an independent commission to investigate extrajudicial killings and enforced disappearances.