'Overall development not possible by leaving female tea workers behind'
Speakers say at UN SDG workshop in Moulvibazar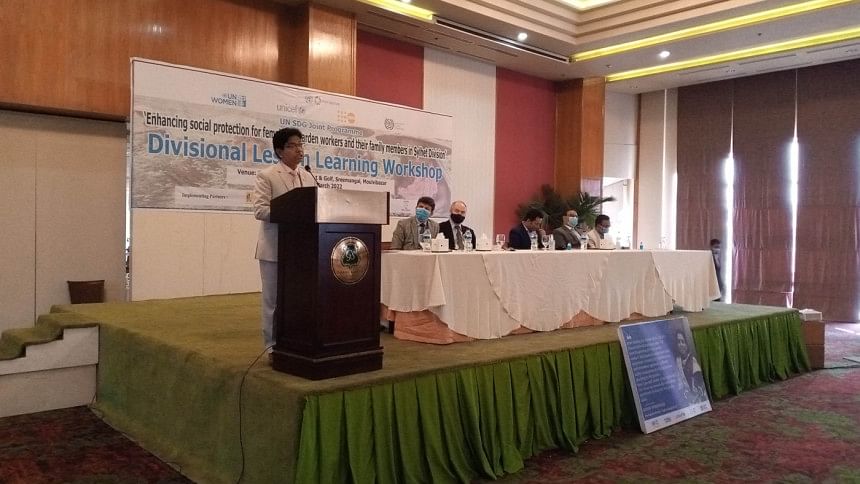 Noting that Sustainable Development Goal (SDG) aims to leave no one behind, speakers at a workshop have said overall development of the country is not possible by leaving female workers of tea gardens behind.
They came up with the remarks while speaking at the Divisional Lesson Learning Workshop under UN SDG Joint Programme for enhancing social protection for female tea garden workers and their family members in Sylhet division.
The workshop was jointly organised by ILO, UNICEF, UNFPA and UN Women, held at a hotel in Moulvibazar's Sreemangal yesterday, reports our Sylhet correspondent
Speaking as the chief guest, Sylhet Divisional Commissioner Dr Muhammad Mosharraf Hossain said, "Leaving no one behind is the key aim of SDG. And to achieve the goal of SDG, female tea garden workers cannot be left behind. In this division, people of tea gardens and haor areas are deprived of many things, which must be changed."
"Tea gardens were established by the British and ruled with their colonial mentality. But now, these gardens are owned and operated by Bangladeshis. So, the British mindset must go," he said.
The UN SDG Joint Programme at 25 tea gardens in Sylhet division, which started in January 2020 with a budget of two million USD, will end on March 31 this year.
The key expected output of the programme are -- capacity for policy and legislative reform, capacity for data and analysis, the capacity of duty bearers of service delivery, the capacity of rights-holders to access services and capacity of rights-holders to claim accountability and women's and girls' rights.
Thanking all partners of the programme, Tuomo Poutiainen, country director of ILO, in his welcome speech, said, "The programme's topic is social protection and particularly the circumstances of the women tea garden workers. It also focuses on fundamental changes in access to services."
In the keynote speeches, Alexius Chicham of ILO; Dr Animes Biswas, Mashiur Rahman of UNFPA; Tapati Saha of UN Women; and Khondokar Luthful Khaled of UNICEF explained the impact of the programme in the selected tea gardens.
In the keynote presentation, they stated that the programme worked for capacity building on collective bargaining, leadership, gender talk for changing social norms and gender stereotypes, creating access to social services of maternal health and family planning, data harmonization and coordination, increased institutional births, MUAC screening-SAM child identification and education sector and early childhood development.