'Nothing changed since 2018': Students block Dhaka roads demanding safety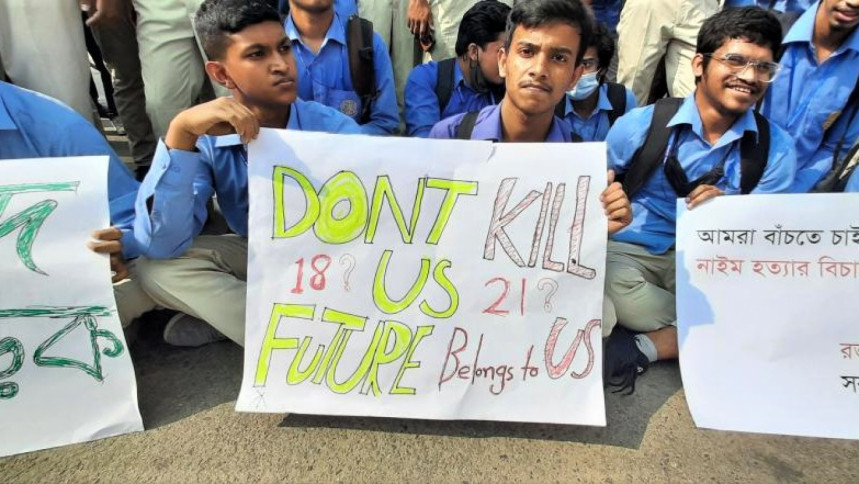 Students of at least 10 colleges and schools blocked the road in Dhaka's Farmgate today -- causing traffic jam in nearby areas -- demanding justice for Notre Dame College student Nayeem Hasan's death and safety on roads.
The students were seen checking driving licenses of vehicles.
The area reverberated with the slogan "We want safe roads, we want justice" -- used during the mass student protests in 2018.
"We took to the street in 2018 demanding safety on roads. At the time, the authorities pledged for it but nothing has changed in more than two years. Yesterday, another student died," said Erat Ahemd, a student of Government Science College in Farmgate.
The protestors said they would continue their demonstration until their demands are met.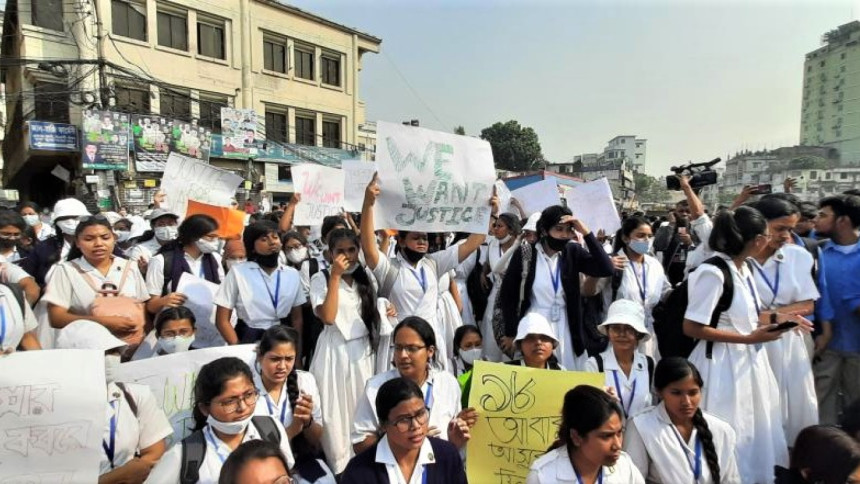 "Almost every day, lives of students are cut short on the road due to reckless driving. But it seems nothing concerns our authorities. We came out on the street again as we want this situation to change," said a student of Holy Cross College, preferring anonymity.
Kawsar Ahmed, a student of Tejgaon College, joined the protest with his friends.
"We can't sit idle when one after another, students are dying. We came here as we want justice. We want safe roads," he told The Daily Star.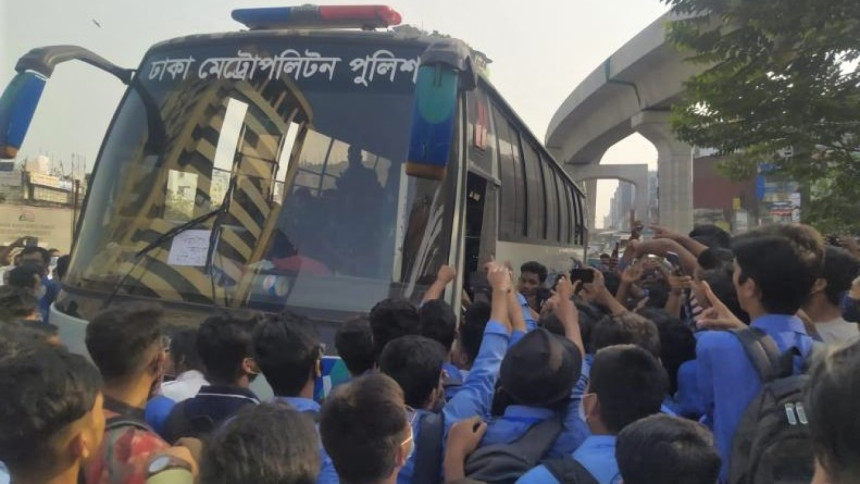 Several hundred students of schools and colleges, including Viqarunnisa Noon School and College and Motijheel Ideal School, started protesting in Shantinagar area this morning -- demanding justice for Nayeem Hasan and safety on roads.
Monirul Islam, officer-in-charge of Ramna Police Station, said students of three schools and colleges started demonstrating in Shantinagar around 11:30am.
"They blocked the roads -- creating traffic jam in nearby areas. The situation became normal after the students left the area around 2:00pm," the OC said.
Meanwhile, students of at least two educational institutes, including St. Joseph Higher Secondary School, demonstrated in Kalabagan area. They took to nearby streets with the same demands.
Meanwhile in Arambagh, Notre Dame College students took to the streets again today to demand prompt justice for those responsible for the death of their peer, Nayeem Hasan.
They were shouting slogans "Our brother in grave, why is the killer out?" and "We want justice".
Nayeem died yesterday morning after being hit by a vehicle of Dhaka South City Corporation in Gulistan area.