"My tears have dried, please bring back my son"
Mother of missing student pleads
"My tears have dried… There's no trace of my son for over two months."
Jannatul Ferdous today made an emotional appeal to get back her son Ifaz Ahmed Chowdhury.
Ifaz, a third-year student of Computer Science and Engineering department at a private university, went missing after he left their Mirpur home for going to a nearby mosque on April 11, 2022.
The family filed a general diary with Mirpur Police Station the same night.
"We visited offices of detectives, Rab and Criminal Investigation Department but none admitted picking him up. The officials said they are trying to find him and thus two-and-a-half-months have passed," Jannatul said today at a press conference at Dhaka Reporters Unity.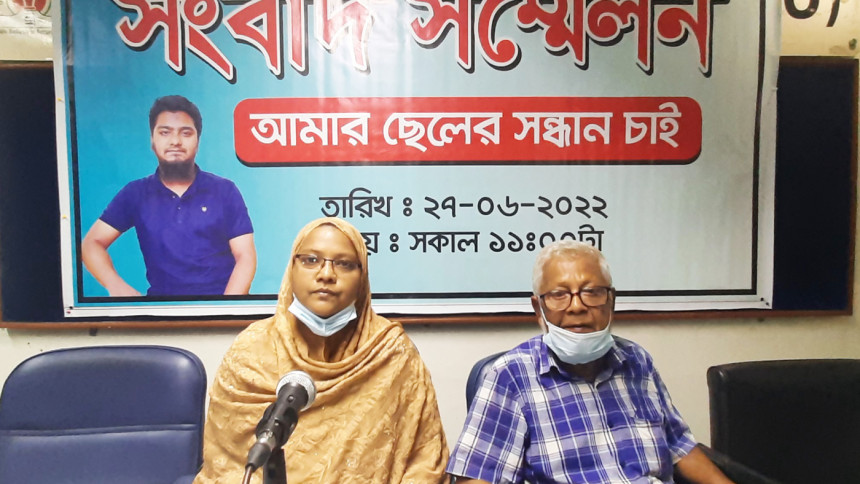 The mother said they collected CCTV footages of nearby areas and saw a black microbus parked by the road as Ifaz was returning home from a veterinary clinic in Mirpur-1.
"We suspect that my son was picked up and whisked away in the microbus," she said.   
The mother demanded that the authorities either release her son, if they picked him up, or produce him before a court, if he had committed any crime.
"Even if my son was abducted by criminals, I request the law enforcers to trace his whereabouts," she said.
"My son's wife Ananya is seven-months pregnant…Please bring him back," Jannatul appealed and sought Prime Minister Sheikh Hasina's intervention to direct law enforcers to find him.
When asked about his political background, Jannatul said her son was not involved in politics.
Ifaz's grandfather Kazi Momin Uddin was also present at the press conference.