Media freedom at stake
Speakers tell discussion marking Human Rights Day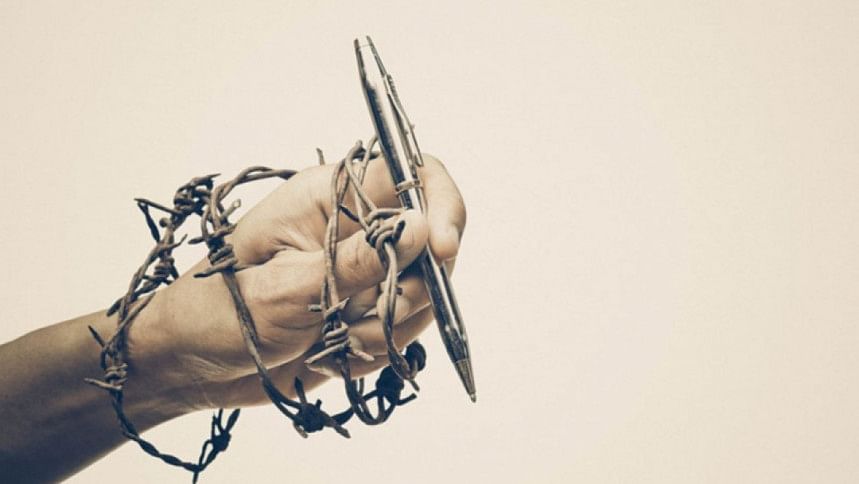 Media freedom is pertinent to flourish democracy but there is an atmosphere in Bangladesh where media professionals and outlets work under various threats and intimidation, said participants at a roundtable yesterday.
They said there are unfriendly laws, such as the Digital Security Act-2018, which curbs media access to information while there is also a growing tendency to bring down information providers.
The Office of the UN Resident Coordinator in Bangladesh organised the discussion on "Human Rights and Media in Bangladesh" at a city hotel, marking Human Rights Day observed across the globe on Saturday.
Transparency International Bangladesh (TIB) Executive Director Iftekharuzzaman said media works as a fundamental pillar of democracy whereas "media control" is used not only in Bangladesh but globally as a "convenient and powerful tool" to promote violations of human rights.
He voiced his concerns that a syndrome of "shoot the messenger"-- the information provider be it institution or individual -- is developing quite fast in Bangladesh.
The way the DSA has been used in Bangladesh is very concerning, said Faruq Faisel, regional director of Article 19 South Asia.
"This is an act that we believe is [used] to create an atmosphere of fear," he said.
Faisel said under the law, police can seize any device from any establishment. They don't need an arrest warrant to nab individuals, which goes against a country that has a rule of law.
The now-revoked Section 57 of the Information and Communication Technology Act-2006 received much criticism and now the DSA has emerged as a big threat to journalists, said Prof Kaberi Gayen of Dhaka University's mass communication and journalism department.
In his speech, Information Minister Hasan Mahmud said the present government has ensured media freedom and extended all the support for its exponential growth in the country.
There are 38 private television channels in the country at present whereas there were only 10 until the beginning of 2009. There are more than 1,250 daily newspapers which were 450 at that time, he said.
"The government believes media freedom is essential for the protection of human rights and it has designed 'media policy' keeping that in mind," he added.
Editor of Daily Ittefaq Tasmima Hossain said the government needs to look at how newspaper houses are surviving and whether they are paying their employees or not.
Bangladesh as a UN member state is committed to upholding free expression and media rights as article 19 of the Universal Declaration of Human Rights (UDHR) says "Everyone has the right to freedom of opinion and expression," said Gwyn Lewis, UN resident coordinator in Bangladesh.
Media freedom can only be properly upheld when journalists are granted access to information, said Nathalie Chuard, the Swiss ambassador to Bangladesh.
Terming media a "custodian" of human rights, Editors Guild Bangladesh President Mozammel Babu said media houses need to fight against "fake news".
Bangladesh Press Council Chairman Justice Nizamul Huq Nasim stressed the flourishment of independent newspapers in the country for the quality development of journalists.