Activist Mizanur recounts what happened to him after being "picked up"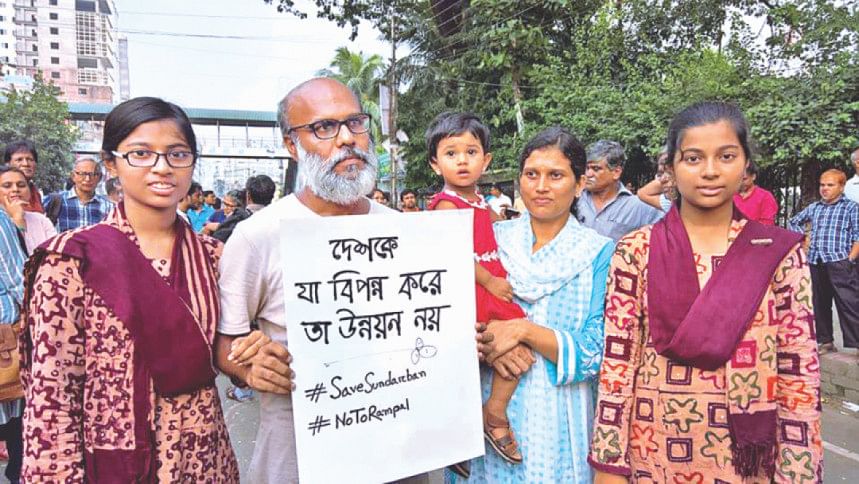 Every time someone gets "picked up", reports are published in media. After being "picked up", whereabouts of some become known, while the unlucky ones are never found. What is never known, however, is the way someone gets "picked up" and who does the "picking up".
Mizanur Rahman, who became the latest person to be "picked up", was fortunately found and released several hours later. He spoke to The Daily Star, detailing the chronology of events that happened on that day.
Mizanur, an activist and resident of Dhaka's Jurain area, was picked up by law enforcers from Shyampur Police Station on June 9, 2022, from a market near Jurain Rail Gate.
When the incident was reported, Shyampur police and Detective Branch did not clear the air, while Mizanur's family members and friends panicked.
The day before, police lodged a case in connection with an attack on a police sergeant in Jurain, accusing 450 persons including three named individuals.
Besides talking to media in this regard, Mizanur published a post on social media after the incident, saying: "It can be said that two things will happen. One is trade involving the cases filed, and the other being bribes demanded through threatening to sue people. We are living in a country where it is not at all possible to expect an impartial and fair investigation into the incident that happened."
ONE HOUR AT THE POLICE STATION
According to Mizanur, he came to know that DB was looking for him before he would be picked up from Jurain later in the day on June 9. A close junior in the area had alerted him in this regard and suggested him to go into hiding.
"I, however, thought that I did not have a reason to be on the run. Firstly, I did not commit any crime. Secondly, there are many unnamed accused in this case, the meaning of which is not unknown to us. It will be all about arresting any and all, leaving mostly common people harassed and with no one to stand by them. Considering this, I gave up the thought of going into hiding," Mizanur told The Daily Star.
On the day he was "picked up", Mizanur went to a market named Bikrampur Plaza, where he noticed a police inspector nearby calling him.
"It occurred to me that they may detain me, so I tried to get inside the market but the policemen ran to catch up with me and asked my name. 'Our DC sir will have a word with you,' they then said," Mizanur recounted.
Meanwhile, he somehow managed to inform his daughter in this regard over mobile phone. Soon afterwards, several other police personnel arrived on the spot and surrounded him before "picking him up" in a car. Mizanur told a friend at the time that he was being taken to Shyampur Police Station.
"In the car, they misbehaved with me and snatched away my mobile phone," he said.
The family members and near ones began to panic from this point on. As his family contacted Shyampur police, they denied picking up Mizanur straight away. Then who picked him up? What had happened to him? There were so many questions that his family members were imploring to find answers to while looking for information on his whereabouts.
"In Shyampur OC's room, there was a female police official, possibly the ADC. There they misbehaved with me, used abusive words. They asked why I said that [social media post] about bribery demanded by policemen. I tried to explain, but they hardly let me speak properly," Mizanur narrated.
"At one point, the female officer ordered to beat me up. A policeman was standing there with a stick. Once ordered, he beat me hard several times," he said.
"I have so far fought a lot to live with self-respect. Being beaten like this was unacceptable to me. Yes, I was beaten up before on the road while protesting some cause. But being beaten up like this just for saying something really hurt my self-respect. I could hardly speak. I never felt so helpless. I was also enraged by this," he said. 
"After a while, another senior official came. He spoke casually with me, did not misbehave. 'What you said is alright, but you could have said this through a proper channel,' he told me," Mizanur said.
Mentioning that he was kept standing the whole time at the police station, Mizanur said, "One police personnel was telling an officer there, 'Sir, he is in the BNP committee.' Another said angrily, 'Sir, his whole family are protesters. Even his daughters are also involved in protests.' 'Go pick them up too,' an official said in response."
While this was going on at the police station, Mizanur's wife, daughter and friends could not even be sure whether he was in the station.
The Daily Star also tried to contact Mizanur over phone, but no one received it.
Contacted, Shyampur OC Mofizul Alam had said, "We did not pick up Mizanur Rahman. However, we came to know that he has been taken to Detective Branch (DB). He is one of the suspected instigators in the attack on police sergeant in Jurain. Higher officials are looking into the matter."
ON THE WAY TO DB HEADQUARTERS, BLINDFOLDED!
Around an hour after being taken to the police station, Mizanur along with another arrestee were handcuffed, blindfolded and taken in a car for DB headquarters, where they reached half an hour later.
"They did not talk to me much on the way, rather were speaking among themselves. One, however, remarked, 'Old man, why bother doing things like this? Now you will suffer from pain for the rest of your life!'"
Mizanur also said the blindfold was removed after he was taken to a "high official's" office at the DB headquarters.
"After being quizzed by all present in the room, the senior-most person there spoke to me, asking my name first. This was not like quizzing. Around 5-6 persons were present there. While he was talking to me, the junior officers were getting angry at me and misbehaving with me. The senior person made them stop. 'These should be present in democratic practice. We also make mistakes many times. When people like them [referring to me] speak up, it gives us scope to rectify our mistakes too,' he had said," Mizanur recalled.
"The official also said, 'Let's say you were accused in a case. A case can be lodged in many ways. Suppose someone framed you with 10-20 yaba pieces and filed a case against you. Then the verdict may be delivered in the case after 20 years, proving you not guilty. Those who filed the case also knew that you were innocent. However, can you imagine the journey you'd have to make during these 20 years till that verdict?'" Mizanur recounted.
Meanwhile, three hours went by. No one, family or friends, yet knew where Mizanur was taken to. The Daily Star also tried to contact DB and police alongside other relevant sources, but nothing could be known.
ASKED FOR WATER, TOLD "KEEP FASTING"
After some time, Mizanur was taken to another room and for the first time was allowed to sit after three hours.
"During this time they tried to discuss with me and tried to make me realise that learned men should not speak a lot, by giving references of Dr Zafar Iqbal and Prof Anu Muhammad. I requested for water. They told me to 'keep fasting'," Mizanur said.
"One of them sarcastically remarked that I had taken water from the drain to get Wasa MD to drink it."
"Then I was taken to another room where I was asked if I had anything to eat. They gave me rice, water and coffee. After the meal, one officer came and asked for someone I wanted to be my custodian. I asked for my wife to be informed," Mizanur said.
The official during that time tried to convince Mizanur that he has a family and their future is important, so he should not be involved in any activities like this.
'NOT EVEN BIRDS WILL KNOW IF PICKED UP SECRETLY'
Mizanur's wife Shamim Hashem Khuki was contacted from DB headquarters after 3:30pm, more than four and half hours after he was picked up. Informed, his family went to the DB headquarters on Minto Road.
According to Mizanur, some time after 4:00pm his wife and daughter entered the DB headquarters. They stayed there for around 20-25 minutes.
"When my wife entered, someone told her in front of me, 'We brought him in broad daylight before everyone. If we picked him up secretly, not even birds would come to know'," Mizanur said.
Later he was released after signing an undertaking that said, "I shall not get involved in any illegal or anti-state activities." "After considering a lot of things, I decided to sign," Mizanur said.
"My daughter was also asked to try to make me understand that I should not speak up. One official said if things like this continue, my daughters will not be considered for government jobs, while warning me of risks," he also said.
"They also asked me about my political identity and views. They did not ask whether I support Awami League or BNP, though. I wanted to say I want a society free of exploitation, repression. One that upholds peoples' dignity. They did not let me speak, instead changed the topic."
Translated by Anindya J Ayan.