What the BNP may unveil at today's rally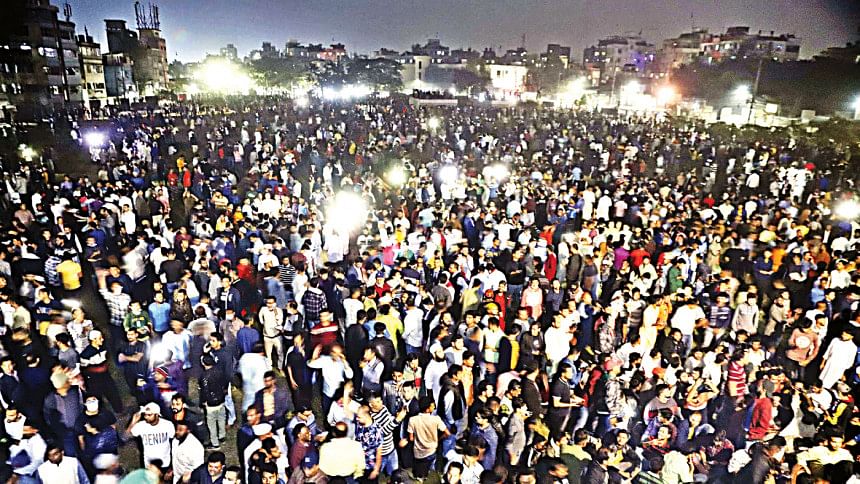 The BNP is likely to announce the outline of a simultaneous movement with like-minded parties to press home its demand for an election-time caretaker government at today's rally.
It may also announce fresh protest programmes, including a mass procession on December 24 across the country, party sources said.
The BNP and the like-minded parties discussed the issues at a meeting at the BNP chairperson's Gulshan office yesterday.
Meeting sources, however, said the programme schedule might change as the situation is complicated and unpredictable.
A senior BNP leader, wishing anonymity, told The Daily star that a simultaneous movement will be announced at the rally. The other parties too will come up with an announcement to that end later.
The BNP and its allies have already held two meetings on this and agreed in principle to wage a greater movement.
Iqbal Hasan Mahmud Tuku, BNP standing committee member, told The Daily Star last night they were trying to forge a national unity and an announcement could come today.
Khandakar Mosharraf Hossain, another standing committee member, said the party will announce a 10-point demand at the rally.
The demands include: the government must resign after dissolving parliament; a non-partisan caretaker government must be formed according to sections B, C and D of article 58 of the constitution; the caretaker government must form a neutral election commission and that EC will ensure a level-playing field; the use of EVMs and party symbols in local government elections will be annulled; convictions of all the opposition leaders and activists, including Khaleda Zia, journalists and Alems will be scrapped; and all "false cases" filed against them should be withdrawn.
The demands added that there will be no barrier to holding rallies and no cases can be filed to gag the opposition's voice; all the black laws, including the Digital Security Act 2018, Anti-Terrorism Act 2009 and the Special Powers Act 1974 must be repealed; anti-people government decisions, including price hikes of electricity, fuel, fertiliser and water should be scrapped; prices of daily essentials should be brought under common people's capacity and the market should be syndicate-free; a commission must be formed to identify the corruption in banking and energy sectors and share market; all the victims of enforced disappearances in last 15 years should be rescued and those responsible for extrajudicial killings identified and punished.
Criminals responsible for attacking houses and places of worship of the minorities should be brought to book; and steps should be taken so the law enforcement agencies, judiciary and administration work independently and without any interference of the government.