'We have no place for wrongdoers'
Quader warns partymen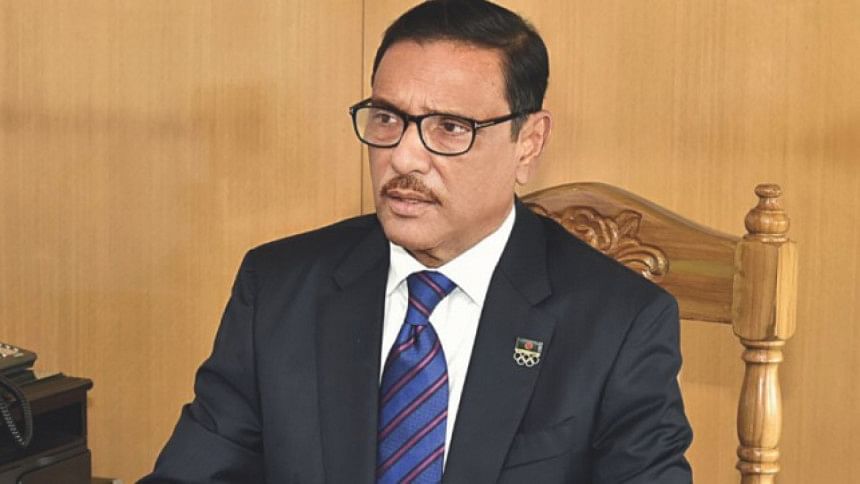 Awami League General Secretary Obaidul Quader has said those who extort, grab land or run drug trades using the party's identity do not have a place in the organisation.
Asking the party leaders and activists to follow discipline, he said, "If you want to be in Awami League, you must follow the party discipline. Sheikh Hasina works for the people as did Bangabandhu before her."
Quader said this while addressing a "peace rally" yesterday, organised by the Dhaka city (South) AL on the premises of Kamrangirchar Hospital, protesting the BNP-Jamaat's "terrorism and anarchy".
"Form committees with devoted activists. One bad person can damage the party's image...," he added.
Quader, also the road transport and bridges minister, alleged that BNP backed Ashraful Hossain Alam, popularly known as Hero Alom, in the Bogura-4 by-polls to undermine parliament.
He said the BNP has become weak, and they have already been defeated in the "game of movement".
"We don't want a weak opponent in the election, rather a strong competitor," he added.
Meanshile, Jubo League Chairman Sheikh Fazle Shams Parash said they would remain on the streets during the BNP's all programmes.
"We will see how the BNP comes to power," he said while addressing a rally organised by the Dhaka city (North) Jubo League in the capital's Farmgate yesterday.
The BNP yesterday held rallies in Dhaka and nine other divisional headquarters to press home its 10-point demand, including holding national election under a non-partisan government.
The AL also organised "peace rallies" in Chattogram, Khulna, Barishal, Rangpur, Mymensingh, and Sylhet.
The ruling party had responded with counter programmes to the previous political activities announced by the BNP and its like-minded parties -- a Dhaka divisional mass rally on December 10, countrywide protests on December 30, sit-in protests on January 11 and 15 and four-day road march on January 28, 30, 31 and February 1.