Vote for boat
Hasina urges people in Jashore; kicks off electoral campaign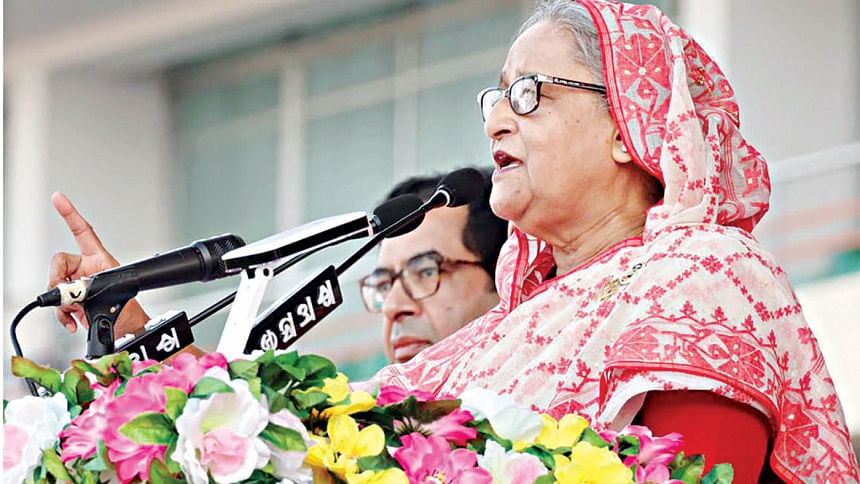 Prime Minister Sheikh Hasina yesterday sought voters' word that they would vote for "boat", the electoral symbol of the ruling Awami League, to give her party another chance to serve the nation.
"I want your love and blessings as well as your word that you will vote for 'boat' to give the Awami League another scope to serve as you did in the last election. Raise your hands and promise me. Whatever you will desire, I will give you more," she said while addressing a rally at Shamsul Huda Stadium in Jashore.
With the rally, Hasina, also the AL president, kicked off the party's campaign for the 12th parliamentary election likely to be held in early 2024.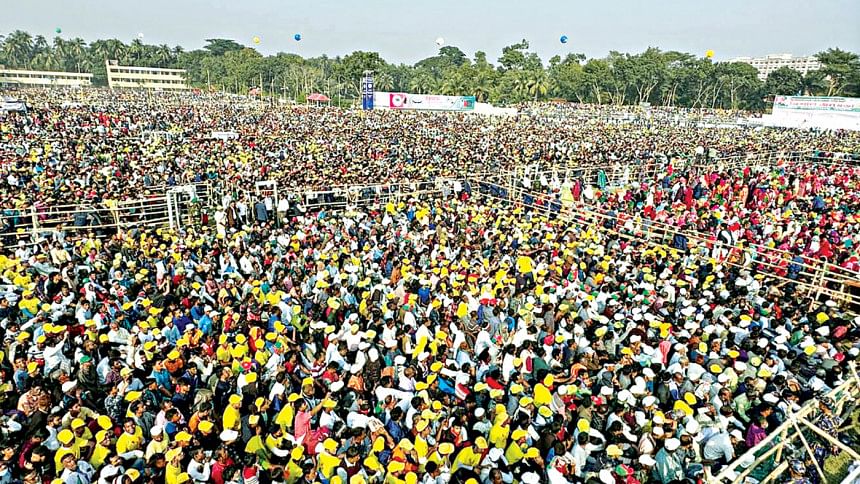 Hasina would also address rallies at Polo Ground in Chittagong on December 4 and at Sheikh Kamal Cricket Stadium in Cox's Bazar on December 7.
In her speech, the PM dismissed the notion that there was no money in the banks and urged the people not to pay heed to such rumours.
"It is the BNP who always spreads rumours and you know that.
"Some people talk about reserves but there is no problem there. Some say there is no money in the banks which is a blatant lie. Even yesterday [Wednesday]  I had a meeting with the Bangladesh Bank governor and others concerned. It was confirmed that we have enough money in banks," she said.
"If you keep your money in your home after withdrawing from the banks, it will just create scopes for the thieves," report UNB and BSS, quoting the PM.
Hasina said due to the pandemic, there is an economic crisis across the globe, but Bangladesh's economy has been kept on a strong base.
"We have remittance inflow, foreign investment is coming, export income has increased, and our tax collection has also increased. When all the countries are struggling to avoid a recession, Bangladesh has remained economically strong." The prime minister said the Awami League assuming power in 1996 inherited reserves of only $2.5 billion. When it came to power again in 2009, it was $5 billion.
During the pandemic, there was no export and import, as a result the reserve reached $48 billion, she mentioned.
She said the government spent money on vaccines, fertiliser, rice, wheat, and corn for the people and invested $8 billion in various works.
"It [reserve money] did not go anywhere, it was spent for the welfare of the people."
Coming down heavily on the BNP, the AL chief said, "They [BNP leaders] embezzled the country's money and for that they have been convicted. Tarique Zia has been sentenced to seven years' imprisonment and fined Tk 20 crore. He has also been convicted for smuggling arms."
Hasina said BNP Chairperson Khaleda Zia not only looted people's money but also the money meant for orphans. "For siphoning out Zia Orphanage Trust's money, Khaleda has been convicted. What will these convicted leaders and their party give to the people?" she said.
The rally, organised by Jashore district AL, was also addressed by AL General Secretary and Road Transport and Bridges Minister Obaidul Quader, presidium members Piyush Kanti Bhattacharya, Agriculture Minister Abdur Razzaque, and Jahangir Kabir Nanak and Hasina's cousin and AL leader Sheikh Helal, MP, among others.
Jashore AL President Shahidul Islam Milon presided over the rally while its General Secretary Shahin Chaklader, MP, conducted it.
Jashore yesterday was in a festive mood as AL leaders and activists from the southwestern region swarmed the town with colourful placards and festoons and chanted slogans.
Earlier, Hasina addressed a ceremony at the parade ground of the Bangladesh Air Force Academy in Jashore marking the President Parade (Winter)-2022.
She asked the newly commissioned officers of Bangladesh Air Force to have a sense of responsibility towards the country and its people to gain public trust and confidence.
The PM inspected a smartly turned-out parade and took salute riding in an open vehicle on the BAF Academy Parade Ground and witnessed a spectacular colourful flypast and aerobatic display.