The picture doesn't reflect the reality
Rift between 2 brothers widening as Barishal city polls approaching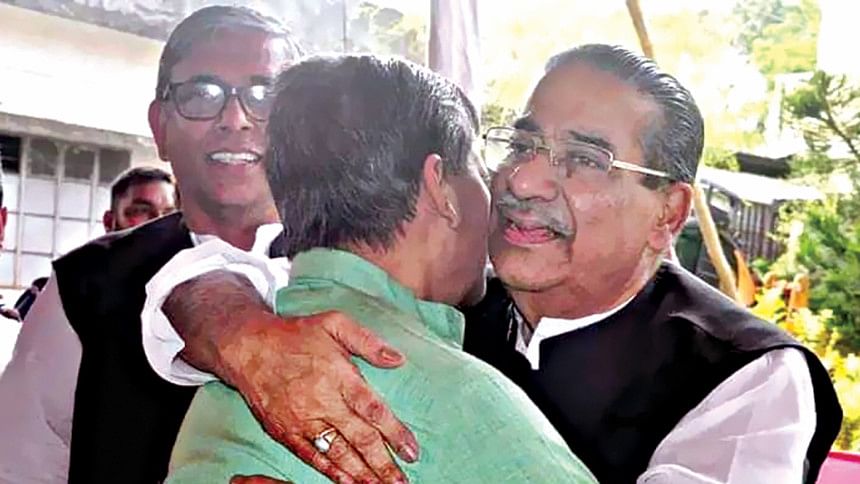 The recent photograph of Abul Hasnat Abdulalh hugging his younger brother Abul Khair Abdullah brought some relief to the grassroot Awami League leaders and activists of Barishal as they thought it was an indication of them uniting ahead of the city polls.
But the real picture is different because the AL failed to unite the two factions and get the Hasnat-led faction to work for Abul Khair Abdullah, the AL mayor candidate in Barishal city. Rather, with the election nearing, the rift between the two brothers over the party mayor nominee is widening, said locals.
Hasnat's son is incumbent BCC Mayor Serniabat Sadiq Abdullah.
On Sunday, Anisur Rahman Sharif, a member of ward-14 unit AL, alleged that Hasant Abdulalh gave Tk 3 crore to ‍Islami Andolon Bangladesh (IAB) mayor nominee Syed Muhammad Faizul Karim's campaign.
"He has fielded at least three candidates in each of 10 wards to compete against us [loyalists to Khair]. Around Tk 30 lakh was distributed for their election expenditure," Anisur claimed at a press conference.
After his statement, Anisur was suspended from the party by the city unit AL on Sunday night.
The Daily Star could not reach Hasant Abdulalh for his comments.
Earlier, Anisur alleged that the unit's AL General Secretary Safin Mahmud Tarik was working for a pro-IAB councillor aspirant.
Tarik, who is known as a supporter of Hasnat, however, refuted the allegation and accused Anisur of beating him.
Sources inside the local AL said such conflicts exist in at least 15 out of 30 wards of the Barishal city.
On Friday night, at least 10 people were injured as supporters of two councillor aspirants clashed at a meeting in the presence of Khair Abdullah in the city's Bandroad area.
Shekhar Das, a supporter of Khair Abdullah, was reportedly behind this clash as he did not allow an activist of councillor aspirant Joynal Abedin, a supporter of the incumbent mayor, to get on the stage.
General Secretary Parimol Dash of city unit Sramik League, also a supporter of Hasnat, alleged that his men were harassed by police.
Saiful Islam, commissioner of Barishal Metropolitan Police, said, "Police are not harassing or intimidating anybody...Those who are accused in any criminal cases are only being questioned."
Sources in both factions told this newspaper that the Khair- and Hasnat-led factions formed separate campaign committees.
Talking to The Daily Star, Sarowar Hossain Razib, a joint general secretary of the city unit AL and a supporter of Sadiq, said they have been campaigning separately.
The nine-member AL central coordination team is trying hard to end the feud.
During a closed-door meeting of the team on Sunday night, AL Presidium Member Jahangir Kabir Nanak, said, "We should remember that there is no alternative to unity. We have to be united to get Abul Khair Abdullah elected in the Barisal City Corporation election.
"… the party has many weaknesses. We have to give momentum to the electoral campaign in every ward bypassing those. Everyone should be treated as an equal contender," said meeting sources, quoting Nanak as saying.
Ever since the AL on April 15 picked Khair, Mayor Sadiq has been trying to keep his firm grip on Barishal as Khair has been gaining strength, locals and AL insiders said.