Shamim Osman breaks silence, code of conduct
Taimur's campaign coordinator arrested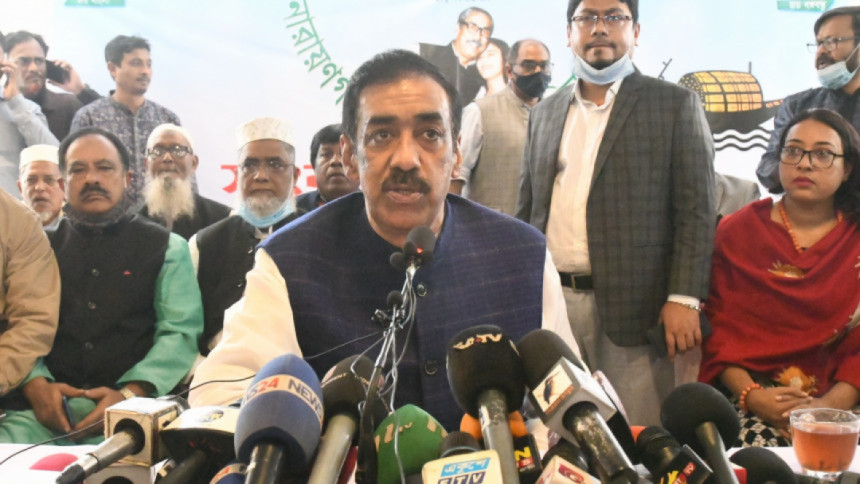 Ruling Awami League lawmaker Shamim Osman finally broke his silence and asked AL leaders and activists in Narayanganj to work in favour of Selina Hayat Ivy, the party's mayor candidate in the January 16 city polls.
By doing so, he, however, violated the electoral code of conduct, as no MP is allowed to join electioneering.
The development came yesterday in the wake of allegations that the influential Osman family in Narayanganj threw its weight behind Taimur Alam Khandakar, who is running for the mayor as an independent candidate.
The long-standing bitter rivalry between Shamim and Ivy has come back to the fore in the run-up to the election.
Meanwhile, police yesterday detained Taimur's Election Coordinator Monirul Islam, who is the acting convenor of Narayanganj BNP.
Jayedul Alam, the district superintendent of police, said they arrested Monirul as he was facing around three cases over vandalism and sabotage. The cases were filed in March last year but he was not on bail, the SP said.
'SYMBOL MATTERS'
Since the NCC polls campaign kicked off, AL leader Ivy had been alleging that her rival Taimur was contesting the election as a "candidate of Shamim", who Ivy had defeated in the previous election.
Taimur has always refuted the allegation, saying he wants to win to free the Narayanganj city corporation from the "clutches of contractors".
Shamim extended his support to Ivy at a press conference yesterday, just six days before the polls.
Speaking at a local community centre, he said, "I am sorry for holding this press conference during the electioneering. I was silent for a few days, and many tried to create an issue over this. It hampers the unity of the party … Some are hurting the party while being a part of it.
"All Awami League leaders are here. I could not join the campaign earlier but I am joining it today."
He then asked party leaders and activists to go to voters' doors and seek blessings for Ivy. "Blaming others will not bring in votes."
The MP added, "It does not matter who the candidate is. It's the [Awami League's electoral] symbol that matters. 'Boat' is Bangabandhu's and we all stand by it."
Contacted after the press conference, Ivy told The Daily Star, "Shamim Osman is a party man and he can extend his support, but I am reaching out to the voters.
"I want to stand by them as I need their votes. It is up to the party to see who is extending support to me and who is not."
About Shamim breaching the electoral code, Matiur Rahman, Narayanganj district election officer, said they would take action as per the rules.
Taimur said, "It seems the government is putting pressure … There is a big crack in my rival camp and that is why they always blame each other."
He alleged that law enforcement agencies were intimidating his supporters and asking them to work in Ivy's favour.
Nur Uddin, president of Amra Narayanganjbashi, a non-political and social organisation, said Shamim's press conference was a big push for Ivy as he has a good number of followers in Narayanganj.
"But we have seen in the past that many of his words do not match his actions. It is also true that Shamim had no other option than to support Ivy. Now, those who had kept themselves aloof from the campaign might work to ensure Ivy's victory."