Rangpur Mayoral Election: JP's Mostafa wins, AL polls only 8pc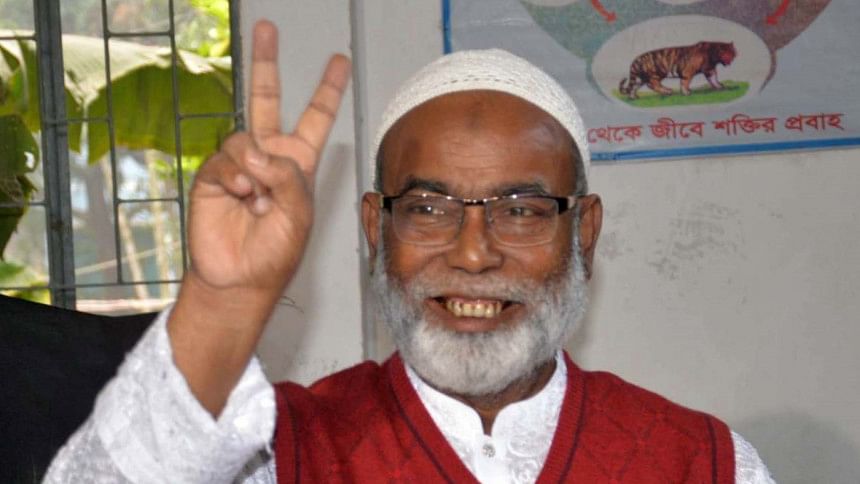 Jatiya Party's Mostafizar Rahman Mostafa was reelected  Rangpur mayor while the ruling Awami League candidate, in the fourth position, managed to bag only 8 percent of the vote in the city corporation polls yesterday.
This will be Mostafizar's second win in the Rangpur City Corporation election. 
AL candidate Hosne Ara Lutfa Dalia got fewer votes than a local AL leader who ran as an independent.
Mostafizar, running with JP's symbol of "plough", got 146,798 votes and his closest rival, Bangladesh Islami Andolon nominee Amiruzzaman Pial, got 49,892, said Returning Officer Abdul Baten early today.
Local AL leader Latifur Rahman Milan got 33,833 votes, considerably more than Dalia's 22,306, according to information provided by Baten at Rangpur Shilpakala Academy.
Five others ran for mayor in the city.
There are 426,470 voters in the city, and the turnout was 65.91 percent, Baten said while reading out the results from the 229 polling centres.
Malfunctioning Electronic Voting Machines slowed down polling to such an extent that polling at some centres went on until around 7:30pm, nearly three hours past the deadline.
However, no major incident of violence, vote rigging, or the use of muscle power was reported.
Even though only those who appear at the polling centre within the deadline get to vote as per electoral rule, hundreds of voters were seen in queues at different polling stations in the evening.
CEC Habibul told reporters that the large voter turnout and fingerprint mismatches caused the delay. Around half the votes were cast until 4:00pm, he added.
"EMVs are slow in comparison to ballot papers," he said at the EC office in the capital yesterday.
The Daily Star correspondents visited over a dozen polling centres in the Jatiya Party stronghold and found technical glitches at all of them.
At least 20 voters said they had to wait for hours to cast  votes. Some voters said they could not vote at all as the machines did not recognise their fingerprints.
Mostafizar said he had to wait for almost half an hour to cast his vote.
"I will talk to the returning officer about this matter. EMVs are not working in two booths," Mostafizar told reporters outside Alamnagar Collegepara Government Primary School polling centre.
"Voters will lose their confidence in the EMVs," he said.
Marjina Mahbub, 20, who went to the centre around 8:30am and waited there for an hour before officials told her that the machine could not read her fingerprint.
Presiding Officer Asaduzzaman said two machines were malfunctioning at the centre.
Another constituent, Naya Mia, 65, told The Daily Star that he waited at RPMP School and College from 9:00am to 4:00pm, but still couldn't vote.
At Rangpur Lions and School and College, these correspondents found that only 80 votes were cast in the first two and a half hours.
Presiding Officer Shah Alam said, "The EVMs take a long time. Besides, voters are not familiar with the devices."
Mostafizar met Returning Officer Baten at the latter's office around 2:00pm and expressed his concerns over the EVMs.
He added that he had found EVM glitches in 24 polling centres.
However, AL candidate Hosne Dalia told reporters at Lions School and College in the morning that she did not face any problems.
"The voting atmosphere is excellent. The city dwellers are coming to the polling stations to cast their votes with enthusiasm. Some people are spreading propaganda about the EVMs," she said.
Baten told reporters around noon that he received complaints about fingerprint mismatches of "some" voters.
This is the third election since the city corporation was formed in 2012. The corporation has 33 wards and 183 councillor posts.