Rallies in Faridpur: AL, BNP in overdrive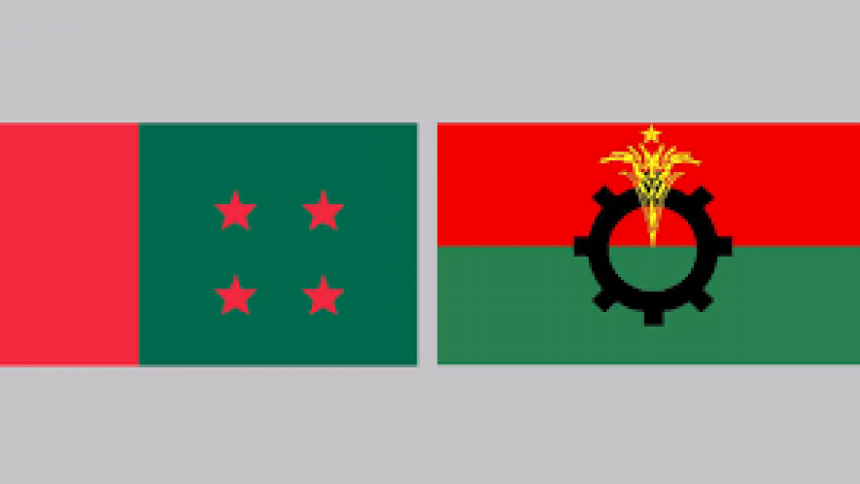 Despite the possibility of a road transport strike in Faridpur, both the ruling Awami League and BNP have begun chalking out plans for rallies that will take place on Friday and Saturday.
The district AL has announced it would hold a rally on Friday to protest "arson terrorism, vandalism, anarchy and instability created across the country by the BNP".
When the BNP earlier announced its countrywide rallies, it said its Faridpur rally would be held on November 12 (Saturday).
Meanwhile, passenger bus owners and workers yesterday warned of a two-day strike starting from Friday if the authorities concerned do not take measures to remove three-wheelers from the highways by Thursday.
District AL level leaders held meeting with its upazila leaders and activists on Monday to plan and ensure a large gathering.
Shamim Haque, president of Faridpur AL, said, "We are targeting to arrange over 10,000 people to attend our rally. Our leaders and activists from the upazila and union levels will join. The transport strike, if enforced, will not be a problem for us.
"Our rally will be held peacefully. We are ready to prevent any kind of chaos or anarchy, if any, created by BNP men."
The AL rally will be held at the Sheikh Russel Square at the district headquarters on Friday afternoon.
Meanwhile, BNP central and district-level leaders have been holding a series of meetings with grassroots leaders and activists over the last few days to ensure the success of their rally.
The partymen have also been distributing leaflets in different place across the district to invite more people to join the rally.
The party high-ups have already formed six preparatory committees to speed up pre-rally activities.
Syed Modares Ali, convener of Faridpur BNP, said, "We are taking all-out preparations to make our rally successful. If the transport strike is enforced, our partymen are determined to come to the rally on foot. We hope that at least one lakh people will join.
"People from adjoining districts will join the rally too."
Contacted, Liyakot Ali, convener of Rajbari BNP, said, "A transport strike will not be able to stop us. We will go to Faridpur on motorbikes, bicycles, boats and even on foot."
As part of its series of divisional rallies, protesting the price hike of essentials and fuel, the recent killings of five partymen in police firings, and also demanding the release of its chairperson Khaleda Zia, BNP's Faridpur rally will be held at the Abdul Aziz Institution ground located in Komorpur area, around six kilometres from the district town.
Transport strikes were also called ahead of its recent rallies in Mymensingh, Khulna, Rangpur and Barishal.
The party maintains that these strikes are part of an attempt by the ruling AL to keep its supporters from taking part in the rallies.
On October 27, Home Minister Asaduzzaman Khan and Information Minister Hasan Mahmud in separate programmes said the ruling party had nothing to do with the strikes as the transport associations are "independent".
However, according to media reports, almost all the top leaders of the transport associations that called the strikes are either of the ruling party or are supporters of its allies.