Quader lauds budget as "pro-people, business friendly"
"Not interested in it," says Fakhrul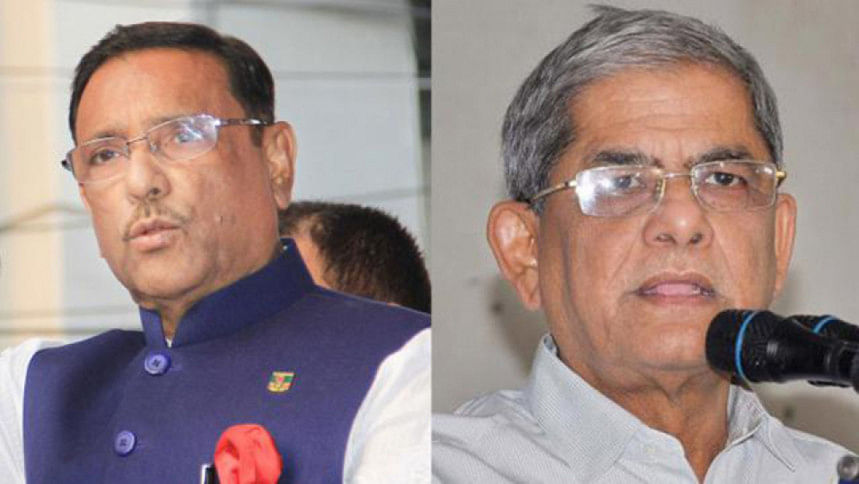 Ruling Awami League today lauded the proposed budget for FY 2022-23, terming it "pro-people and business friendly".
On the other hand, oppositions BNP and Communist Party of Bangladesh (CPB) have rejected it, while Jatiya Party termed it "ambitious".
Giving reaction on the proposed budgetary allocation, Awami League General Secretary Obaidul Quader said the proposed budget is aimed at the poor and will revive the country's post-Covid economy.
"It's a business-friendly and pro-people budget," Quader, also road transport and bridges minister, said.
He said this while speaking to journalists outside the Jatiya Sangsad Bhaban after the end of budget presentation in the parliament today.
In the proposed budget, the allocation for social safety net has been increased by Tk 7,000 crore compared to the present allocation, Quader said, adding that the issues of lower and middle income groups have been highlighted in the budget.
Meanwhile, BNP Secretary General Mirza Fakhrul Islam Alamgir in his primary reaction on the budget said he has no interest in it.
"I don't want to comment on the budget," he said.
"Whose budget is it? Who is preparing the budget? This budget is for those who do not represent the people. There will be more looting in the future, and this budget is aimed for these calculations," he said.
Fakhrul made the remarks at a programme organised by BNP in the capital today.
Slamming Fakhrul's comment that the budget is an account on how to loot more in future, AL Joint General Secretary AFM Bahauddin Nasim said BNP's politics is of looting and for making the country champion in corruption.
"BNP never thought about common people before and doesn't think now too. So, they don't like the budget which is prepared for the development of the masses," Bahauddin Nasim said.
The budget is ambitious, said GM Quader, chairman of Jatiya Party, the main opposition in the parliament.
A deficit of Tk 2.5 lakh crore has been shown in the budget, which is above 5 percent of GDP. Also, 36 percent of the budget allocation is reliant on internal debt. If the amount of internal debt is high, the investment of traders may be hindered, he said.
As a result, the path to new employment creation may be narrowed, GM Quader observed.
Again, the amount of foreign debt is 14.2 percent. The increase in the amount of foreign debt may cause Bangladesh to become like Sri Lanka, the Jatiya Party chairman added.
Communist Party of Bangladesh (CPB) has rejected the budget saying tax burden on the people will increase due to the proposed budget.