Presidential election on February 19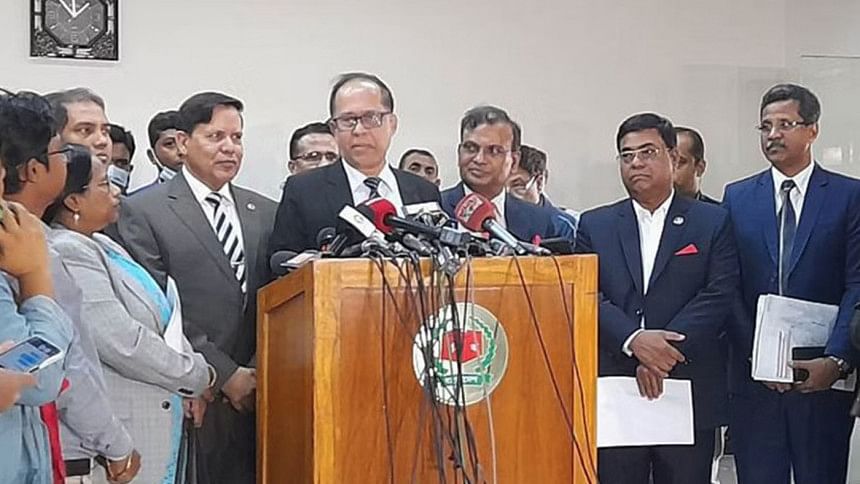 The next presidential election will be held on February 19.
Chief Election Commissioner Kazi Habibul Awal announced the schedule after holding a meeting with election commissioners at the Nirbachan Bhaban in the capital's Agargaon yesterday.
The nominations will be submitted on February 12. The nomination papers will be scrutinised on February 13. The deadline for withdrawal of candidature will be February 14, he said.
The election will take place from 2:00pm to 5:00pm on February 19 at the parliament house if there is more than one candidate, Awal added.
Three hundred and forty-three members of parliament have been enlisted in the voters' list this year to elect the head of the state. Seven posts of MPs were vacant.
According to the Presidential Election Act, 1991, the president shall be elected by the members of parliament by open ballot.
An MP shall sign the nomination paper for the presidential election as the proposer and another MP shall sign as the seconder. No MP shall sign more than one nomination paper as a proposer or seconder.
On April 24, 2018, President Abdul Hamid took oath as the head of the state for the second consecutive term, which will expire on April 24 this year.
Hamid's first five-year tenure expired on the same date in 2018, after he took office in 2013.
According to Article 123 of the constitution, the presidential election must be held 60 to 90 days before the expiry of each five-year term.
As per the constitution, Hamid cannot become president for another term, as he was elected for two terms.