Power deal with Adani Group unnecessary, uneven: Fakhrul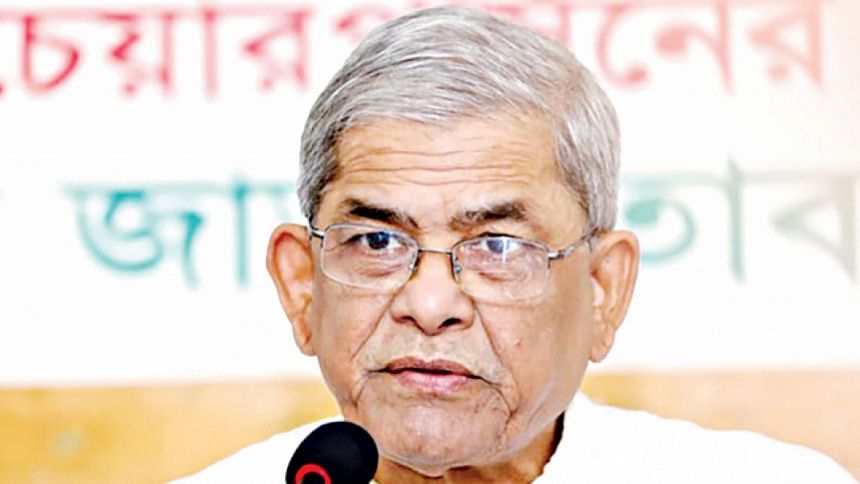 BNP Secretary General Mirza Fakhrul Islam Alamgir today termed the government's power deal with the Indian Adani Group "unnecessary and uneven" and said Bangladesh will be unable to reap benefits from the project.
"The government has signed a power contract with India's Adani Group. Everyone at home and abroad is saying that this is an unnecessary and unfair deal," he said.
If the deal is not revoked, the BNP leader said, Bangladesh will have to pay money, but it will not get much benefit.
"Through these kinds of deals and projects, they (AL leaders) are plundering huge public money and amassing wealth abroad," he observed.
Fakhrul made the remarks while talking to reporters after placing a wreath at BNP founder Ziaur Rahman's grave along with the leaders of Jatiyatabadi Jubo Dal's newly announced full-fledged committee.
He said the Awami League government has no responsibility towards people since it has usurped power using the state machinery. "The most serious matter is that there is no parliament to hold the government accountable. There is a parliament that is not elected by people."
The BNP leader alleged that the government has been looting money in a planned way by taking various unnecessary projects one after another and building assets in different countries by siphoning off ill-gotten money abroad since it came to power 14 years.
He also said the government has been in a picnic mood while the country's people have been going through serious ordeals due to unusual price hikes in daily essentials.
"Since the government has no responsibility towards the people, they're indulging in festivity. They're today (Tuesday) holding a festival in President Abdul Hamid's area," Fakhrul observed.
The BNP leader said the government does not want to admit that there is an economic crisis and inflation has reached an extreme level in the country. "The common people of the country are now unable to buy rice."
Amid such a situation, he said the government's plan to stop the operation of OMS is a "terrible" move. "They'll sell rice and essentials through cards which can create another scope for them (AL leaders) to indulge in corruption."
Fakhrul said there is no alternative to continuing the ongoing movement to overcome the current situation of the country and the government's misrule. "We have started the movement. In this movement, 17 of our leaders and workers were killed on the streets. We'll surely establish a government of people by defeating the current fascist regime."
On February 22 last, BNP announced a 251-member full-fledged committee of the Jatiyatabadi Jubo Dal, the youth front of the party, with Sultan Salahuddin Tuku as the president and Abdul Monayem Munna as the general secretary.