Polls under AL govt, nothing but a joke: Fakhrul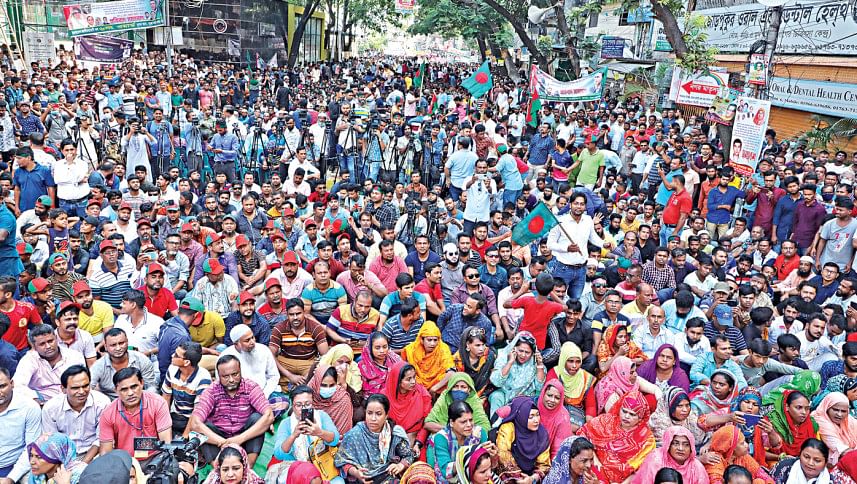 The talk about fair elections during the Awami League regime is nothing but a "joke", said BNP secretary general Mirza Fakhrul Islam Alamgir yesterday.
Addressing a rally at Khilgaon, the BNP leader said the people of the country should get united to oust the government as it is destroying all the achievements of the country.
The event was organised by Dhaka south city unit of the party, protesting the recent attacks on its different programmes in the capital and demanding the release of their arrested leaders and activists,
Prime Minister Sheikh Hasina in an interview with BBC said free and fair elections are held only during the Awami League's regimes as she always fought for democracy and democratic rights in the country.
The BNP leader alleged that the ruling party leaders are siphoning off money from the country through corruption and that corruption takes place in the name of mega projects.
Fakhrul alleged that the ruling party men attacked BNP standing committee member Selima Rahman, vice chairman Barkat Ullah Bulu and executive committee member Tabith Awal with an intention to kill them.
"You (government) cannot stop the movement this way. People of the country always raise their voices against misdeeds and they will do so," he said.
Reiterating the demand for the resignation of the government, the BNP leader said the government must resign from office and hand it over to a neutral government to hold a free, fair, and acceptable election.
"Let's get united to move forward to oust the government from the office,' he said.
Party's standing committee member Mirza Abbas expressed anger alleging that the administration was making delay in giving them permission to hold the rally.
"This country is not anyone's property. I want to say clearly that this government is not the last government. There will be a government in the coming days."
He said in the last few days, the mental strength the party leaders and activists showed is very impressive. "We know that our leaders and activists are ready for counter-attack if the ruling party men attack us.  We will resist attacks from now on."
Younus Mridha, joint convener of Dhaka South city unit of BNP, presided over the rally.