Police 'barring' vehicles from entering Dhaka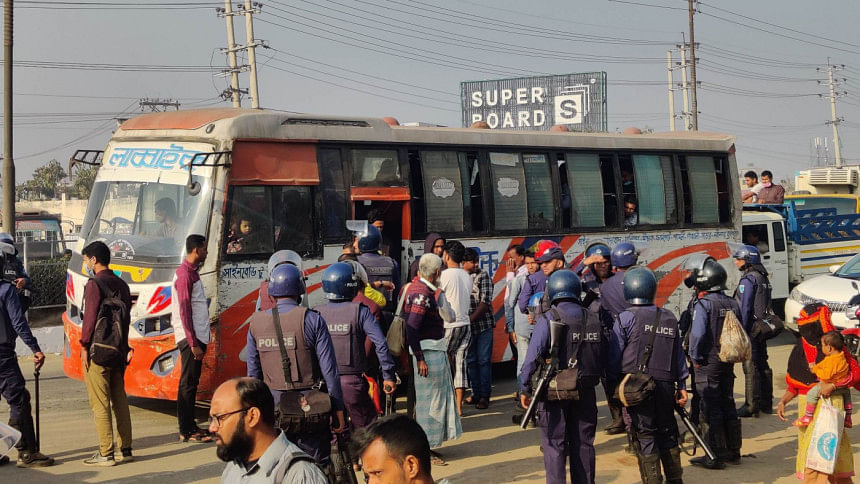 BNP's Dhaka divisional rally will be held today at 11:00am at Golapbagh ground in the capital.
From early morning, police were seen barring the entry of vehicles in the capital's Gabtoli, Aminbazar, Abdullahpur, Gazipur, Savar, Ashulia, and Tongi areas.
The Daily Star correspondents from the spots said police have set up checkposts at various points in these areas.
All kinds of vehicles are being searched. Some private cars and motorcycles were permitted to cross after being questioned and searched, but no buses or other forms of public transportation were allowed to enter.
Hundreds of people were seen entering Dhaka on foot at Gabtali checkpost at 7:00am. Same could be seen at Aminbazar.
Police are also checking mobile phones, said pedestrians.
Rezaul Karim, a resident of Savar, left his home at around 6:00am to travel to Motijheel in Dhaka for some urgent work. He initially travelled to Hemayetpur by a CNG-run auto-rickshaw due to a lack of available transports on the highway.
He then hopped on a Selfie Paribahan bus. Police, however, stopped the bus at the Aminbazar checkpost.
Rezaul told The Daily Star, "There is only a handful of buses on the road but police are not allowing them to cross the Aminbazar checkpost."
"Many passengers are entering Gabtoli area by crossing the Aminbazar bridge on foot. There is no car in Gabtoli either," Rezaul added.
Denying the information that vehicles are not bring allowed to cross the Aminbazar checkpost, Savar Model Police Station Officer-in-Charge Dipak Chandra Saha said, "We have set up a checkpost, but it is incorrect that we are not allowing any vehicle to cross the checkpost. There are only a few vehicles on the road. Maybe passengers and drivers are not coming out of fear."
Police have so far detained 10-12 people at Aminbazar checkpost for interrogation.
Confirming the matter to The Daily Star, Abdullah Al Kafi, additional commissioner of Dhaka district police, said, "We have detained them for questioning as their behaviour was suspicious. Action will be taken against them if we find anything in the interrogation. Otherwise, they will be released."
From 6:00am to 8:00am today, no long-distance buses were seen plying the Dhaka-Chattogram highway. Although some short-distance buses are plying, police are stopping them for checking.
CNG and battery-run auto-rickshaws were also seen being stopped and sent back to the direction they came from.
Sheikh Billal Hossain, additional superintendent of police in Narayanganj, told The Daily Star, "There is no instruction from the high-ups to stop the vehicles. Law enforcers are on alert so that there is no violence ahead of the rally."