Parliament witnesses heated debate on fuel price hike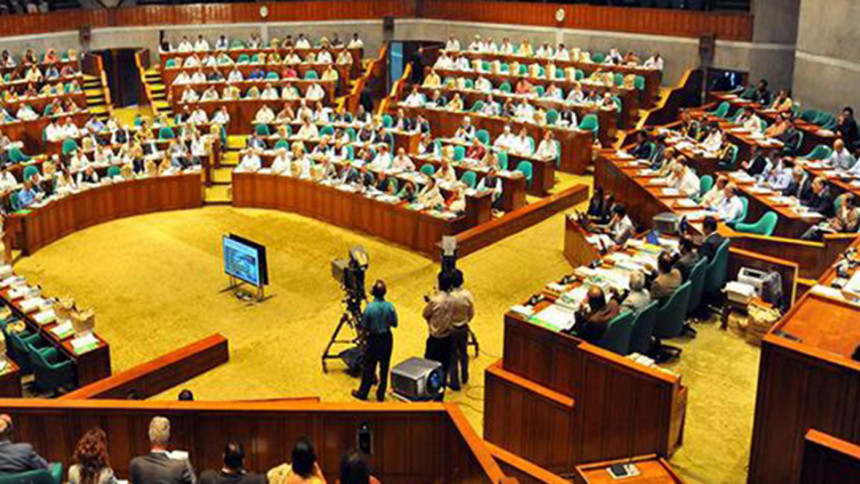 Parliament today witnessed heated debates on a large number of chairman and members getting elected unopposed in the ongoing Union Parshad polls, and the hike in prices of diesel and kerosene.
Two JP MPs—Mujibul Haque Chunnu and Rustum Ali Faraji blasted the government for increasing the price of diesel and kerosene.
Taking the floor on point of order, they demanded that the government reduce diesel prices, scrapping the recent decision for the sake of easing public sufferings.
"The country's common people, particularly the poor, are now suffering due to the diesel price hike. I would like to tell the Leader of the House and the prime minister to either kindly reduce the price, or withdraw the recent decision, or make an alternative arrangement," said MP Mujibul Haque from Kishoreganj-3.
Mujibul Haque, also secretary general of Jatiya Party, said the diesel price was enhanced by 23 percent this time, and such a huge leap was never seen before.
He said the government took the decision at a time when the people were going through a very tough time due to the price-hike of daily essentials amid the fallout of Covid-19 pandemic.
Rustum Ali Faraji from Pirojpur-3 asked the government to review its recent decision of diesel price-hike giving the public interest as the first priority.
"The government should either reduce the diesel price … or give subsidies for public interest," he said.
Speaking on a point of order, BNP MP Harunur Rashid raised the issue of unopposed election wins of many UP chairman and members in the UP polls.
He faced huge opposition from the treasury bench MPs when he alleged that many MPs in the current parliament were "unelected" as they were elected unopposed.
A pandemonium-like situation broke out at the House as treasury bench MPs raised hue and cry to bar the opposition MP from delivering his speech.
At one point, Speaker Shirin Sharmin Chaudhury was bound to say that she cannot hear anything in the House chamber and urged all to quiet down.
Following opposition by the ruling party MPs protesting Harun's remarks on the unelected MPs in the current parliament, the Speaker who was presiding over the session at that time, asked the BNP MP to withdraw his remarks.
Harun told the Speaker that he was withdrawing his remarks on request made by the Speaker but added that he was going to walk out of the parliament in protest of the Speaker's request.