Opinion soon on application for Khaleda Zia to go abroad: law minister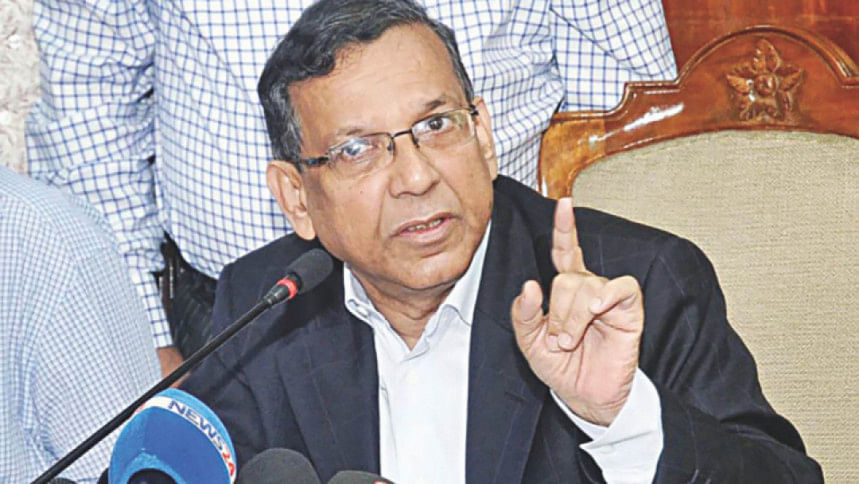 Law Minister Anisul Huq today said he would soon give his opinion on the application seeking government permission for BNP Chairperson Khaleda Zia to go abroad for treatment.
"An application has recently been submitted to the home ministry seeking permission for Khaleda Zia to go abroad for treatment. The home ministry has sent the application to my office [law ministry] day before yesterday [Tuesday]. I have not seen the application yet. I will give my opinion on the application soon after seeing it," he told The Daily Star tonight over phone.
On September 25, Anisul told reporters at his ministry office in the Secretariat that the government has nothing to do anything from a legal standpoint about allowing Khaleda Zia to go abroad.
He said her jail sentence has been suspended on conditions of the executive decision under Section 401 (1) of the Code of Criminal Procedure (CrPC). Her existing conditional release must therefore be revoked before the terms of her release can be changed and new considerations can be made, the minister added.
On September 5, Khaleda Zia's brother Shamim Iskandar submitted an application to the home minister, seeking her permanent release from jail cancelling all conditions and to allow her to go abroad for receiving better treatment including physiotherapy at an "advanced medical centre" under expert physicians on an urgent basis in order to save her life.
In the application, Iskandar said Khaleda has liver cirrhosis and heart problems, the modern treatment for which is not possible in Bangladesh.
Khaleda's health condition has deteriorated in such a manner that she cannot stand up and cannot even go to the washroom and outside her bedroom without help, he stated in the application.