Now they fear to go back home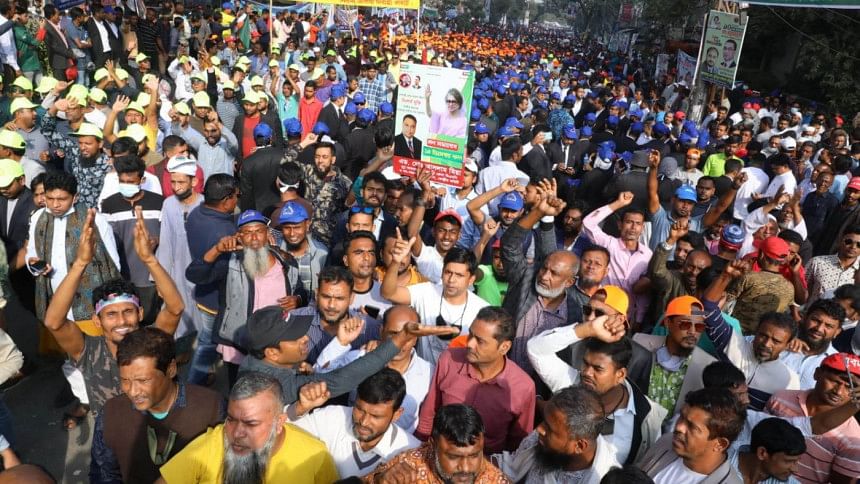 Activists of BNP and its associate organisations who joined today's rally in Dhaka expressed fear that they might face backlash from the ruling party men after returning home.
"Awami League leaders in our area have announced that those who will go to attend the rally in Dhaka will not be allowed to return home. I do not know if I will be able to return home after today's rally," Mozammel Haque Palash, general secretary of ward-6 of Kanchan municipality unit Jubo Dal in Narayanganj, told The Daily Star.
He was speaking to this newspaper in front of Kamalapur Stadium in the capital this morning.
He said he and his fellow party men have left home 11 days earlier out of fear that they will be obstructed by the AL men.
He also said he has seen Awami League and Jubo League men have taken position at different points.
"Eight of us came in a vehicle. We have managed to cross a police check post in the Gausia Market area this morning, saying that we are taking a patient to Dhaka Medical College Hospital," said Palash.
About taking so much risk, Palash said, "I have been sued in seven cases. I am being constantly harassed. What else will I be afraid of?"
Abdul Aziz, another leader from the same area, said, "My life has already been ruined in police cases and harassment. I have nothing to lose. We have been demonstrating to save democracy..."
Masudur Rahman Shipon, member of Zia Cyber Force in Mymensingh, said, "Police has sued 20 of us in an explosives case on the day (December 8) we left for Dhaka."
Sohrab Hossain, senior vice president of Khulna Sadar Upazilla Sramik Dal, said he had to travel by boat and train to come to Dhaka and spend nights at his relatives' home and on the street.
"Police has sued me in 8-10 cases and come to my home to arrest me every day but we fight on."