No visible gain from Hasina's India visit
Says Fakhrul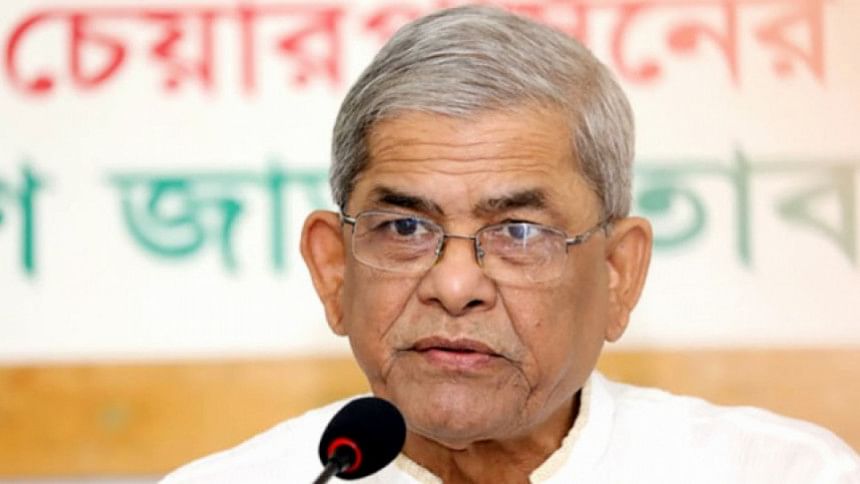 The BNP yesterday said Bangladesh made no "visible achievement" from Prime Minister Sheikh Hasina's four-day tour of India.
"Till now, the achievement is the Kushiyara river water sharing deal. Apart from this, we have not seen any visible achievement," said BNP Secretary General Mirza Fakhrul Islam Alamgir.
He was speaking to reporters after paying homage to party founder Ziaur Rahman by placing a wreath at his grave in the capital's Sher-e-Bangla Nagar, marking the 44th founding anniversary of Jatiyatabadi Mohila Dal.
Stating that a $500 million defence contract was signed to buy vehicles from India, the BNP leader said an assurance was made that border killings would be brought down to zero.
"The very day it was said, one person was killed at the Dinajpur border and two others went missing. This is the outcome [of the prime minister's visit]."
Fakhrul said though there was no fruitful outcome of the visit, the ruling Awami League leaders in their statements are expressing their "love" for India.
"The government has become desperate [to stay in power]. You must remember that before this visit the foreign minister [AK Abdul Momen] had said that he requested Indian leaders to take measures to keep the Awami League government in power by any means," he said.
The BNP secretary general said his party believed that all democratic countries would play their role in upholding democracy and establishing people's rights around the world.
"India is our good friend and a democratic country. We believe that India will also keep its democratic character intact," he said.