No transport strike, no obstacles
Hasina asks party leaders over BNP's Dhaka rally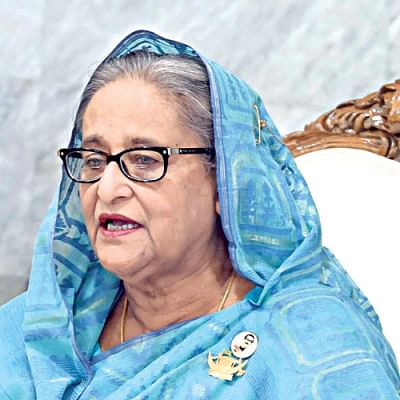 Prime Minister Sheikh Hasina yesterday asked the ruling Awami League leaders to ensure that no transport strike was called ahead of BNP's December 10 rally in the capital.
The AL president gave the instruction at a meeting of her party's Local Government Representative Nomination Board.
The BNP has been organising a series of rallies in 10 cities to protest price hikes of daily essentials and to press home the demand for Khaleda Zia's permanent release.
The series of events is scheduled to conclude with a rally in the capital on December 10. The BNP plans to gather 10 lakh people at the event.
Transport strike was called before all the other rallies except the ones held in Chattogram and Cumilla.
At yesterday's meeting at the Gono Bhaban, Hasina also asked the AL leaders to make sure that the stage set up for Bangladesh Chhatra League's council at Suhrawardy Udyan is dismantled within a day of the programme.
She also ordered them to clear the venue so that no obstruction was created for BNP's rally, said sources.
Chhatra League is scheduled to hold its central council at Suhrawardy Udyan on December 6.
The BNP sought permission from police to hold its rally in Nayapaltan. But the DMP later said the venue should be outside the city centre, recommending the International Trade Fair ground at Purbachal or Bishwa Ijtema ground in Tongi as the possible venues.
But Home Minister Asaduzzaman Khan Kamal on Saturday said the BNP was given permission to hold the rally at Suhrawardy Udyan which is suitable for mass gatherings.
BNP leaders, however, said this was a ploy to prevent their activists from joining the rally, pointing out that Suhrawardy Udyan is on the Dhaka University campus where Chhatra League men are always present.
They said they would hold the rally at Nayapaltan even if the government doesn't give them permission.
Chhatra League's council was earlier scheduled for December 8 and 9. But AL General Secretary Obaidul Quader yesterday announced that the council would begin on December 6 so that the BNP could hold its rally on December 10.
Hasina's directives were issued hours after Quader made the announcement. Quader also said that the government would not obstruct the rally.