No alliance with BNP
Says Raushan on return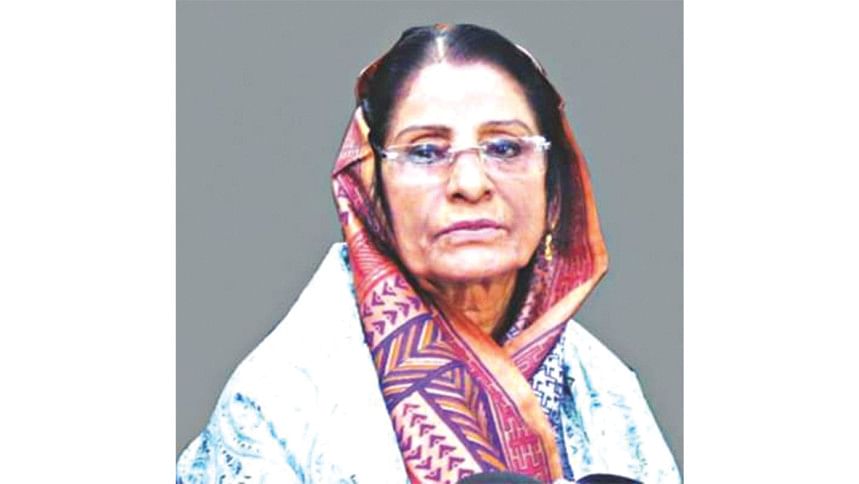 Amid the speculation that Jatiya Party chairman GM Quader might form an alliance with BNP, the party's chief patron and opposition leader Raushan Ershad yesterday unequivocally said there is no question of forming an electoral alliance with BNP.
About allying with BNP ahead of the next national polls, Raushan mentioned that Jatiya Party has suffered a lot under BNP.
"We have seen corruption, mismanagement and inefficiency of 'Hawa Bhavan' during BNP's rule," she added.
Raushan also said that time will tell whether JP will ally with the ruling Awami League ahead of the next general election.
The opposition leader made the remarks while talking to reporters after returning to the country from Bangkok, where she was receiving treatment for around five months.
Raushan also spoke about the much-talked-about friction between her and JP chairman GM Quader.
"We don't have a conflict with GM Quader. We will work together to unite the party," she said.
"I will sit down with all lawmakers, presidium members and other leaders of the party to clear all misunderstanding and confusion in the organisation," she said from a written statement.
Yesterday, Raushan made an appeal to all the members of Jatiya Party who left with Anwar Hossain Manju, Najiur Rahman Manju and Kazi Zafar Ahmad and became inactive to return to Jatiya Party.
"There are some problems like corruption, mismanagement of economy and inflation of daily necessities. The prime minister is aware of these issues, and I think the cabinet members will be more sincere and proactive in addressing these issues," she said about the current political climate of the country.
Earlier, three MPs, including Kazi Firoz Rashid, Syed Abu Hossain and Nasrin Jahan, were present to receive Raushan from the airport.
Besides, several top JP leaders, including Ruhul Amin Hawlader and Golam Moshi, political secretary of the opposition leader were also present along with JP leaders who were expelled by JP Chairman GM Quader from the party for siding with Raushan, including Opposition Chief Whip Moshiur Rahman Ranga and Ziaul Haque Mridha.