Murad Quits As State Minister: Now facing party action
President accepts resignation letter; district AL relieves him from duties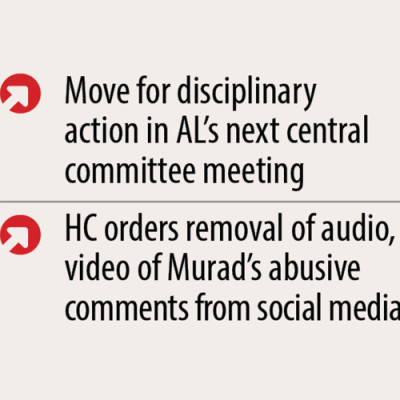 Murad Hassan yesterday resigned as the state minister for information and broadcasting amid severe backlash for his misogynistic and sexually abusive remarks, while Jamalpur Awami League recommended his removal from his district unit post.
He is also on the verge of losing primary membership of the party as a decision on disciplinary action will also be taken against the Jamalpur-4 lawmaker at the next AL central working committee meeting.
The party's Jamalpur district unit yesterday relieved Murad from the duties of health and population affairs secretary for denting party image, breaching party discipline and carrying out anti-organisational activities.
The unit also recommended the AL central working committee take a "final decision" in this regard, said a press release.
In another development, the High Court directed Bangladesh Telecommunication Regulatory Commission (BTRC) to delete all videos and audios of Murad Hassan's objectionable comments from online and social media platforms within 24 hours.
RESIGNATION ACCEPTED
President Abdul Hamid has accepted Murad's resignation letter, says a gazette notification. 
Around noon yesterday, Murad emailed his resignation letter to his ministry office, less than 24 hours after Prime Minister Sheikh Hasina asked him to step down following a firestorm of criticism over his comments in online interviews and a leaked audio recording.
Citing "personal grounds", he requested the PM to accept it and relieve him from his cabinet duties.
After the resignation letter was emailed to the ministry, it was then sent to the Prime Minister's Office from the Cabinet Division, confirmed Emrul Karim Rashed, his personal assistant.
After the PM's approval, the cabinet would send the letter to the president, said sources at the ministry, explaining the procedure.
In the letter, Murad mistakenly wrote 2021 as his year of appointment as state minister instead of 2019, and so the Cabinet Division asked him to send a hard copy with his signature and the date corrected, the sources added.
Later at night, the government issued a gazette notification, saying the president has accepted the resignation letter of the state minister.
Murad, lawmaker from Sarishabari upazila, was appointed state minister for health following the formation of the new cabinet on January 7, 2019. He was transferred to the information ministry a few months later.
Now the fate of his parliament membership will be decided by Speaker Shirin Sharmin Chaudhury, said AL General Secretary Obaidul Quader, also road transport and bridges minister.
"If any serious allegations arise, the speaker can take a decision," he said while replying to a query.
Besides, Awami League Joint General Secretary Mahbubul Alam Hanif said recommendation will be made for disciplinary action by the party against Murad. If allegations against a leader are proven, he or she must be punished, he said.
Information and Broadcasting Minister Hasan Mahmud told reporters at the Secretariat that he saw "some changes" in Murad in the last three months.
His activities embarrassed the government and the party, the minister said.
Murad is the second AL leader who lost his cabinet post for making "derogatory comments" since the party took power in 2009.
Latif Siddique was removed on October 12, 2014 from the position of posts, telecommunications and ICT minister for his remarks about some religious issues.
He was also removed from the party membership and he himself resigned from the position of lawmaker.
EMON INTERROGATED
During an interview on a Facebook page on Saturday, Murad made some offensive comments about BNP Chairperson Khaleda Zia, acting chairman Tarique Rahman and his daughter Zaima Rahman.
Then an audio clip of a phone call, between him on one end and actors Emon and Mahiya Mahi on the other, leaked and went viral on social media early Monday.
In the audio clip, Murad was heard making sexually abusive remarks directed at Mahi, and at one point even threatened to rape her.
Rapid Action Battalion yesterday interrogated Emon over the leaked audio. On Monday night the actor went to the DB office and discussed the issue with Harun Or Rashid, joint commissioner (north) of DB.
Harun said they will talk to Mahi upon her return from Saudi Arabia as DB's cybercrime unit always conducts shadow investigations when anything controversial goes viral of social media.
He also said detectives will interrogate Murad if anyone formally files a complaint against him.
Meanwhile, Dhaka University student Zulias Cizar Talukdar, also former general secretary of Salimullah Muslim Hall Students' Union, yesterday filed a complaint with Shahbagh Police Station against Murad for making derogatory comments about Dhaka University and its female students.
"We went to the police station to file a case under Digital Security Act but police received a complaint," he told The Daily Star.
Contacted, Moudut Hawlader, officer-in-charge of the police station, said they received a complaint from a DU student against Murad and it was sent to the DMP Cyber tribunal team for investigation.
MURAD APOLOGISES
In a Facebook status yesterday, Murad apologised to all women.
On his verified Facebook profile, he wrote, "Forgive me if I've done anything wrong, or if my words have hurt any mother or sister.
"I will forever abide by all the decisions of Prime Minister Sheikh Hasina," he added.
Meanwhile, BNP demanded arrest of Murad.
"His resignation is not enough, he [Murad] should be arrested," Ruhul Kabir Rizvi, senior joint secretary general of BNP, said at a press briefing at the party's Nayapaltan headquarters yesterday.