Khulna tense as BNP holds rally today
Many supporters make it to the city despite transport strike; AL stages rally to show strength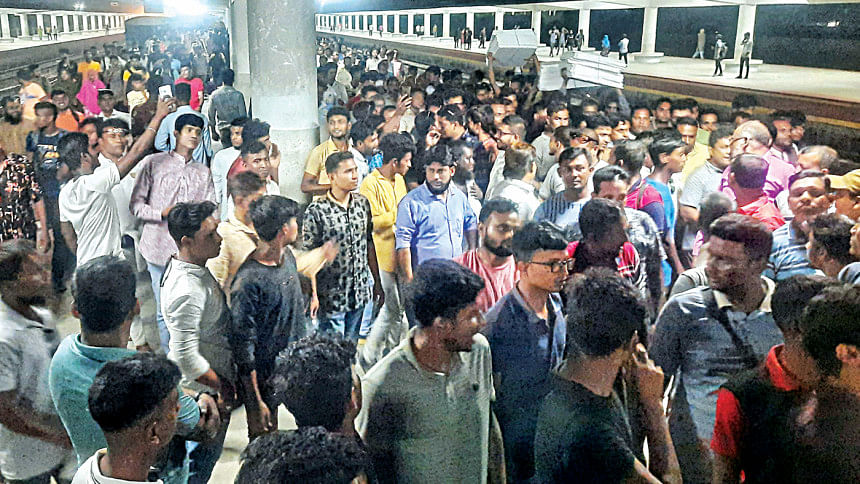 Despite a transport strike, thousands of BNP supporters arrived in Khulna city by trains, motorcycles and other vehicles yesterday to attend the party's rally today.
The tension was palpable as ruling Awami League men stood at different places of the city, saying that they would take steps in case the BNP activists tried to create chaos.
They also marched through different streets and held a rally at Shibbari intersection in the afternoon.
Meanwhile, BNP Secretary General Mirza Fakhrul Islam Alamgir said the government would be solely responsible in case an untoward incident took place at the rally at Dak Bungalow intersection.
Until late last night, hundreds of BNP supporters kept arriving in Khulna by trains, motorcycles and any vehicles they could find. They were mostly from Jhenaidah, Chuadanga, Meherpur, Magura and Kushtia districts, reports our correspondents.
Hundreds of BNP supporters were seen in front of the BNP office on KD Ghosh Road in Khulna last night.
"Had the government not put the obstructions, at least 10,000 people from Jhenaidah would have joined the Khulna rally. Many of our supporters are travelling on Nasimon, Karimon and microbuses," said Abdul Majid, president of Jhenaidah District BNP.
Saiful Islam Firoz, senior joint general secretary of Swechchhasebak Dal, said, "Our leaders and activists are on their way to Khulna. They are being blocked. The bus services have been stopped… We condemn this act by the government."
Meanwhile, large groups of AL men, many holding sticks and riding motorcycles, were seen across the city throughout yesterday.
Contacted, Babul Rana, general secretary of Khulna city AL, said, "We are not trying to prevent BNP men from joining their rally. We are simply organising our programmes.
"We are on high alert. We don't want violence. But we will take steps if BNP men demean our prime minister or create chaos in the name of the rally."
In the morning, BNP Secretary General Fakhrul at the party chairperson's Gulshan office in the capital said, "They [law enforcers] are arresting BNP leaders and activists and common people. I am urging [the government] not to create any problems in the Khulna rally. If any problem arises, only the government will have to take the responsibility."
At the BNP office on KD Ghosh Road in Khulna, BNP Vice Chairman Shamsuzzaman Dudu told reporters that 60 BNP leaders and activists were detained in Khulna city and the districts of Khulna division on Thursday night.
Shafiqul Alam Tuhin, member secretary of Khulna City BNP, said police created panic among BNP supporters by raiding their houses and harassing them.
Nur Mohammad Mazumder, chairman of Bangladesh Road Transport Authority (BRTA), yesterday said transport operation was suspended in Khulna on political grounds.
The BRTA was not aware about the strike, he said while briefing journalists in the capital on the eve of National Road Safety Day.
As part of the BNP's programmes in the divisional cities, Khulna city unit of the party organised the rally to protest the price hike of fuel and daily essentials, and the deaths of five party men allegedly at the hands of police in Bhola, Narayanganj, Munshiganj and Jashore.
Khulna District Bus-Minibus Owners' Association announced the suspension of services ahead of the BNP rally, but said in an official statement they were doing this in protest against the operation of three-wheelers on the highways.
The Khulna unit of Bangladesh Launch Workers Association also announced a 48-hour strike to press home a set of demands that include wage hike.
[Our correspondents in Khulna and Jhenaidah contributed to the report.]